Graham Reid | | 4 min read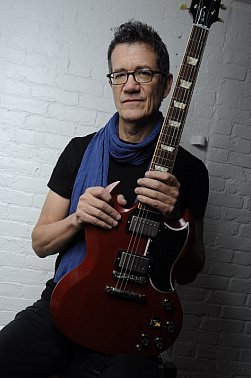 Chances are you've heard – and perhaps even seen – guitarist Jon Herington but never heard his name.
Born on the Jersey Shore, Herington took his high school band into opened for the biggest local name (Bruce Springsteen, if you are uncertain) but subsequently slipped sideways into jazz . . . all of which was a solid background for what he has been doing since '99.
Herington is the studio and live guitarist for Steely Dan.
He's also toured with the Dan's Donald Fagen, Boz Scaggs, Bette Midler, Blue Nile, Madeline Peyroux, saxophonist Bill Evans, the organ legend Jack McDuff . . .
And he helms his own Jon Herington Band (JHB) band and spun off a series of acclaimed albums -- his Time on My Hands of 2012 was nominated for the Vintage Guitar Hall of Fame Album of the Year – and so much more.
But as a Dan sideman – although his playing is often front'n'centre of course – he's not necessarily going to be the focus of the audience's attention.
Which is why we briefly throw the spotlight on him as a performer under his own name, starting with that terrific Time on My Hands.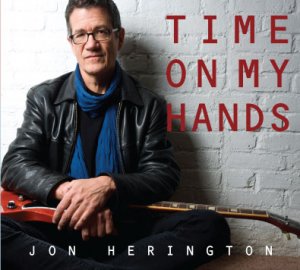 Quite clearly, when left to his own devices, Herington's preferred position is in aggressive, edgy blues with layerings of pop culture in the background.
I'll Fix Your Wagon off that album may have hard blues in the foreground but as it builds in intensity you discern lurking in the backdrop something akin to John Lennon's I Want You/She's So Heavy.
And the country blues tune Sweet Ginny Rose opens with a ripple of sitar (faux sitar, it's Herington on sitar-guitar) before it hits that reductive Bo Diddley beat.
The brooding but funny I Ain't Got You – riding over band member Danny Louis' Hammond B3 punctuations and groove – has the same wit as a more sophisticated treatment of the theme behind Joe Walsh's Life in the Fast Lane: "I got the pool, I keep it filled with fine champagne that's always perfectly chilled, I got the yacht, I got the crew but . . . [enter title here]"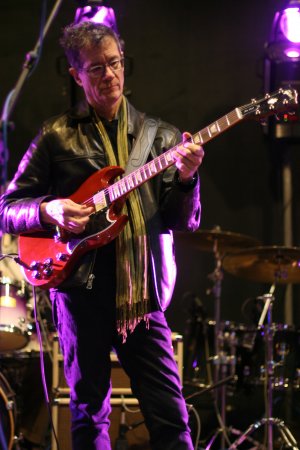 Beach Boys fans will agree it takes a brave man to write a song entitled Caroline Yes, but it's a terrific barroom blues-rocker.
And he's not averse to a pop song as elegantly obvious as Runnin' Out of Time which Tom Petty might lift and repurpose.
But actually it's just fine as it is in Herington's hands, a post-Byrds/Shoes/Boz slice of smart powered-down power-pop balladry.
Of course, given his weapon of choice, it is his guitar work which propels all of this.
And he deftly channels a whole lot of history from Chicago blues and swinging blues (the throwaway but funny contemporary-referencing Egirl about dating life in the internet age) through fuzzbox funk-rock (Shine Shine Shine) and even a built-in barroom encore with The Bucket Song with "throw that Jackson down, the JHB's in town, the cash goes in that cup, we're gonna fill that bucket up . . . trade Lincoln for a song . . ."
This is sassy and sharp stuff.
And for adults who can clock the references but also just enjoy it for what it is, this is a man and his band out there entertaining with serious intent . . . but not taking themselves seriously.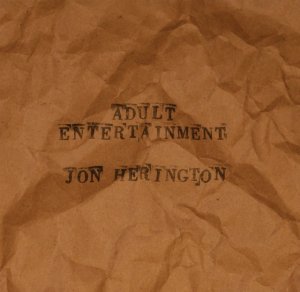 And that brings us rather neatly to his most recent album which is entitled . . . Adult Entertainment (in a "brown paper cover", ho ho ho?)
Yes, well . . .
If there's a manifest failing it's that the wit in the lyrics becomes too focused on his older generation audience: To obliquely reference the Traveling Wilburys' Handle Me With Care in a song about a three-way and sado-masochism seems a stretch . . . and then to write a song with that very title?
And is it from the perspective of a man enduring spousal abuse?
Jeez . . .
Either way it's hard to hear any of it as a lousy referential unfunny joke . . . but you sense it might play well on a Blues Cruise around the Caribbean where punters are three cocktails down and pretty indiscriminate.
And then there's the leaden clunk of Doctor's Orders which telegraphs itself from the opening lines: "Doctor told me watch what I eat, I'm getting hungry and your love is sweet … Doctor told me get out and run, chasing after you is much more fun . . .".
The "adult" jokes on this album wear very thin very quickly.
And even his searing and intelligent guitar work evidenced on Time On My Hands is pulled right back, as if not to offend the more senior folk out there.
After Time On My Hands where the humour was in the service of the song, Adult Entertainment is a let down. (But isn't "adult" entertainment always?)
Yet there are flashes: Broken and Blue is a loner's ballad with its roots in the easy melodicism of Harrison/McCartney post-Beatles coupled with an elevating early Seventies country-rock guitar . . . and the country-weeper Can I Get a Volunteer walks a tightrope between cliché and classic. Again, Petty is in the house, as is George Jones. And Herington even acknowledges the cliches he is reinventing.
It's the standout on an album of lesser moments.
Jon Herington remains one of the best, least known guitarists you've probably heard and with Time On My Hands he really nailed the balance between impressive but never showy showmanship on his weapon . . . and had lyrics which complimented the moods.
But with Adult Entertainment you sense he was listening to someone who told him there was a market out there which enjoyed songs as vacuous as Green Baby Green which is the Archies-meets-a Saturday Night Live sketch about money and greed.
At his best – as on Time On My Hands – Jon Herington is better than that.
Much better.
The website for Jon Herington is here. His music is on Spotify.