Graham Reid | | 3 min read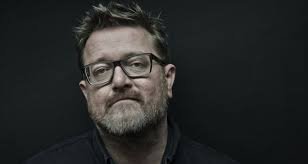 When Elsewhere interviewed Guy Garvey of Britain's acclaimed Elbow in 2011 he was amused by the fact he'd become something of a rock star.
He was for too old for that description he felt -- he was 37 and happily in a relationship ("trying for baby") at the time. Although I can't remember if it was me or him who noted he looked more like Ricky Gervais in The Office than a pop star like Ricky Martin.
But his group Elbow had started at the top of its game a decade before (when he was of course the more dangerously deadly rock'n'roll age of 27) with Brit and Mercury awards for their debut album Asleep in the Back.
The accolades just kept coming too – their Seldom Seen Kid won the Mercury in 2008 and the following year they got the Brit for best group – and they bounced right out of the rock world into mainstream attention when the BBC commissioned Garvey to write the theme music for their 2012 London Olympics coverage.
Elbow – stupid name, right? – performed that song First Steps live at the closing ceremony.
Their 2014 album The Take Off and Landing of Everything gave them their first UK number one (it went to #4 in New Zealand, its better predecessor Build a Rocket Boys! went to #5).
And although some of the band went their own ways and Garvey released a solo album Courting the Squall in '15, they are back with a new album Little Fictions . . . and Garvey's literate writing and yearning vocals remain intact on songs which swell on crests of emotions (and are enhanced by the sound of the Halle Orchestra and a choir).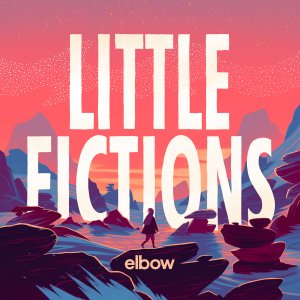 If they are new too you then on a first listen to this new album you may be reminded of a more experimental Blue Nile – if you remember them, much referenced at Elsewhere – on the spare Gentle Storm, and they come with a similar Englishness as people like Ray Davies and Jarvis Cocker.
Needless to say they remain a cult act in America and aren't a band which cracks hit singles. Not even back home, oddly enough.
Yet Garvey can convey a sense of universal world weariness while also sounding vaguely optimistic.
It's a very appealing sound, and their 2010 concert at Auckland's Powerstation had all the components of a tribal gathering of the faithful coupled with genuine rock energy and humour.
And for all that, Garvey is very much the adult in the room. He has – because of his tough Manchester upbringing perhaps – a sympathy with the troubles of young people, as on their song Lippy Kid.
Recently he also moved back to his home city – Manchester Metropolitan University gave him an honorary doctorate – and, after splitting with that formerly loved-up partner, he and actress Rachael Stirling (whose mum is Avengers star Diana Rigg) married last year in the Manchester Town Hall.
All of which adds up to Garvey being in his happy place, and that spirit informs much of Little Fictions without slipping it into overt sentimentality.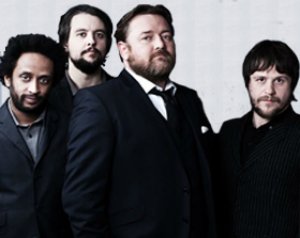 He's also – and this evident in the social responsibility and good works of his life outside Elbow – a man with a political conscience and sense of innate discomfort, which on Little Fictions seeps into the second verse of K2 (about the Brexit vote) and Trust the Sun which despairs at the news cycle of violence and retribution we encounter when we look at the worst of the world around us.
So there is emotional breadth, thoughtfulness, community, optimism, humour (gentle, sly) and some superb singing (Garvey can croon with the best) on Little Fictions.
And check the clip below made by Kevin Godley and which respectfully references that innovative Godley-Creme video for their Cry. Garvey knows the past in both his song and how it could be conveyed.
Little Fictions an album which boasts the now-expected sonic expansiveness (orchestration, rock guitars, clattering percussion) from a band which has taken its audience on a wonderful ride for more than 15 years.
If Ray Davies of the Kinks can get, "Arise Sir Ray" then – if Guy Garvey could just crack those bloody important hit singles which he seems unable or unwilling to do -- perhaps one day from some currently ignorable Queen/King/Prince/WhoeverCheapBritRoyal you might hear those knighthood words: "Arise Sir Guy . . ."
On the back of the Elbow albums so far he's honoured in my house on the opposite side of the planet.
And I don't even care for the hoodie things.
Or did I misread that knighty-British-hoodie stuff?