Graham Reid | | 4 min read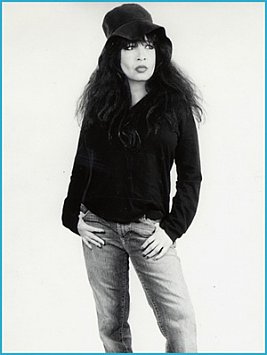 Steven Van Zandt of Bruce Springsteen's E Street Band said it best: " 'Everybody love Ronnie.' It's the first bylaw of rock'n'roll."
Ronnie Spector, lead singer of the archetypal 60s girl-group the Ronettes, defined the exuberant spirit of pre-Beatles American rock'n'roll through the alchemy of a street-wise image adopted from Spanish girls in her New York neighbourhood, a sensual stage presence, and classic songs such as Be My Baby.
"We were the only girl group that wore tight dresses with splits up the sides," she laughs, her Spanish Harlem drawl betraying a lifetime of cigarettes. "We sang and danced, had long hair piled high into beehives and then falling down mid-show.
"I was the first to do all that. And I'm here to be the last."
Well, yes to the former anyway.
Ronnie is back in the spotlight with a long-over due new album, Last of the Rock Stars. But it is the chasm since the whirlwind world of the mid Sixties that makes her life a compelling, if tragic, story of promise denied and dreams deferred.
In 1968 after a string of hits she married producer Phil Spector and, at only 24, was lost to rock'n'roll.
Phil -- currently on trial following a 2003 murder charge -- is considered a pop genius. His "wall of sound" recording technique -- massed guitars, drums and strings which delivered a Wagnerian punch to three minute pop -- was applied to dozens of seminal songs: the Crystals' Da Doo Ron Ron and Then He Kissed Me; the Righteous Brothers' You've Lost That Lovin' Feelin' and Unchained Melody; and hits for the Ronettes including their signature song Be My Baby.
By the mid Sixties Spector was, in the words of Tom Wolfe, "the first tycoon of teen."
He was also domineering, manipulative, volatile and paranoid. In a word: crazy.
On their wedding night he berated Ronnie for being after his money. For the following five years she was literally imprisoned in his mansion, the caged bird he guarded jealously only to be released when he worked obsessively with her in the studio.
"Every time we'd go to California to record a song," she says, "I'd do it for days and days. What's hurt me is that none of those songs ever came out. I'd hear them [by someone else] on the radio and I'd think, 'That's my song'."
As she watched from her enforced isolation her peers and friends built careers, made records and toured. And, most painful to her, had fun.
"But there I was in a studio or in a hotel room learning songs. I spent years just doing that and never performing. We used to record so we could sing in front of people. That's what I loved. Before . . . "
Her throaty voice tails off.
"So many lies, I had to run away, I didn't know people lied that way."
Ronnie -- born Veronica Bennett 62 years ago -- was a pop goddess of her period. She was sought out by pimply Rolling Stones, the Beatles asked that she open for them on their final tour in 66, and she partied with Dylan when Bob was a party guy.
While other American artists faltered on the arrival of the British Invasion, sassy Ronnie -- all two-storey hair and lethally long eyelashes -- looked set to transcend her time.
She oozed sexual come-on and had a brassy voice that could stop a subway carriage with one heavily echoed "whu-oh oh".
She coulda been a contender. But she married her psychotic Svengali.
In 1973 Ronnie, barefoot and carrying nothing, finally fled Spector's mansion -- they divorced a year later -- and tried to rebuild her career, keeping the surname because "I needed any way I could to get back in, I'd been kept away so long".
But Phil hired lawyers to prevent her singing her classic hits, and deny her royalties.
She was broke, recorded intermittently (notably Billy Joel's Goodbye to Hollywood with Springsteen and the E Street Band), and in 1986 had a Grammy-nominated hit with Eddie Money, Take Me Home Tonight.
In 1989 she wrote her best-selling autobiography Be My Baby, How I Survived Mascara, Miniskirts and Madness. It was a disturbing account of emotional imprisonment with occasional flashes of grim humour. Like when Phil would remove his wig at bedtime.
"He'd stumble into the bathroom in the dark so he could rub this acetone solvent all over his head . . . when he came back to bed the smell could've killed a horse, but Phil tried to pretend it wasn't there."
Ronnie's career belatedly kicks in again with Last of the Rock Stars, an album more interesting than essential, but full of loaded lyrics and barely veiled anger about her lost life -- and with guests like old admirers Keith Richards (her neighbour) and Patti Smith, plus hot young rockers the Greenhornes, and Danish duo the Raveonettes who pen a slice of Ronettes-like pop for her.
"Every song is a little piece of my life," she says, and they were all her choices -- from Frankie Lymon's 50s ballad Out In The Cold Again to the Ramones' Here Today Gone Tomorrow.
They make for a scrapbook of singalong schadenfreude, occasional optimism and aching regret. Not Gonna Be Your Baby is a rejoinder to Be My Baby.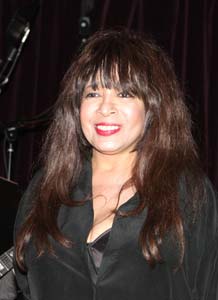 Her rewrite of the Kina song Girl From The Gutter, here as Girl From the Ghetto, is brutal: "I hope your cell is filled with magazines/and on every page you see a big picture of me/and under every picture a caption will read/not bad for a girl from the ghetto . . . like me."
The fury with which she sings, "You gotta pay for the things you put me through/ I hope you do", and throws in a reference to Spanish Harlem, makes her target unmistakable.
She laughs long and loud.
"That's why I picked that song, it's everything I ever wanted to say. I'm just a girl from the ghetto who wanted to sing, and I became successful -- and then I was taken away from all of it."
Tellingly, the word "Phil" never passes her thick red lips.
"When I read the line, 'I won't be held down' I got chills, because this is the first time in 40 years I've had my chance. As the song says, 'it's my time now'."
It seems to be: in 2000 she won a landmark, 15-year legal battle against the one-time "tycoon of teen" for $US2.6 million in unpaid royalties and her album is released as he goes before a judge which means some useful publicity.
It's payback time, with a bullet.
Not that she's been out in the cold. Through the years friends and admirers -- such as Richards, Springsteen and the late Joey Ramone -- remained loyal and often appeared at her annual rock'n'roll Christmas party.
"Joey and I would talk about how every year at the Grammies it's all new people. People don't last like they used to and that's sad. You get the money and the fame, and then you go down.
"Of course, I never saw any money," she laughs again, "but I'm alive and around.
"I'm the first -- and I'm the last."