Graham Reid | | 7 min read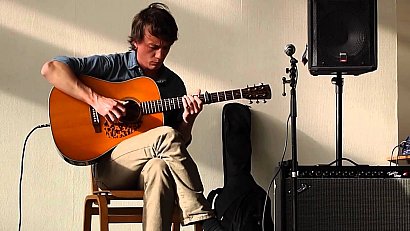 Steve Gunn is a very nice guy to talk to . . . but he's a helluva hard guy to talk to.
For the first five minutes of our scheduled conversation to him at home in New York, the Skype connection keeps dropping out.
For all that time we get no further than, "Hi Steve and thanks for taking the time to . . .". "Steve, I can't hear you and . . .", "Hi Steve, it's me again and . . ."
And so it goes, the smart technology of the 21st century failing us yet again.
The pity is that Gunn is such an interesting person that when we do talk he is engaging, funny, thoughtful and obviously pleased to have a conversation with someone who knows his sometimes obscure but always fascinating reference points.
The shorthand on guitarist Steve Gunn goes like this: Growing up in Philadelphia, he served his time in punk and hardcore bands, moved to New York and extended his listening and playing experiences (often in unusual directions) and served time on the road and in the studio as part of Kurt Vile's band Violators.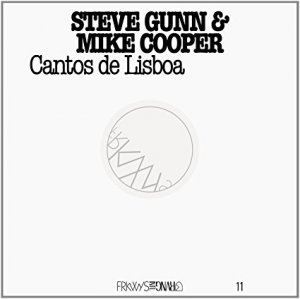 But of more interest has been his career under his own name: His albums – he has taken to singing and is more than merely passable although he's modest about that – explore interesting areas between Tom Verlaine and Jerry Garcia as much as the unusual guitar tunings of people like Davy Graham, Bert Jansch and Sandy Bull. Hardly household names in indie.rock circles.
He also recorded an album in Portugal, Cantos de Lisboa, with the British cult figure and outsider Mike Cooper who is some many decades his senior.
So, leaving aside the Vile Years and because he is coming to New Zealand on a solo tour (dates below), there is plenty to talk with Gunn about . . . if only the Skype would work.
And then, mercifully, it does for many minutes at a time.
Seems we are working now so let's try again. Have you had a good day until now?
Yeah, I had very nice day. I live in Brooklyn and I was working in a studio in Jersey City, just a train ride away and the weather is very nice. Perfect spring weather.
Was it your own project you were working on, or something for someone else?
I had a bit of a break between some tours and recorded a record basically guitar and drums, basically improvised. I've had this on-going project for the past years or so with the guy who plays drums on my albums [John Truscinski] so we found a window of time to go and just play and see what came out of it.
That idea of guitar and drums because I've noted in previous interviews you've mentioned Sandy Bull and jazz drummer Billy Higgins playing together, although I have to be be honest though I came very late to Sandy Bull but when I heard him I was quite taken aback by it.
Yeah, that's actually a very important touchstone for us, how me and John met and how we've learned to play together. Those two people were big influences on us.
I play and try to explore different kinds of guitars and in different scales and modes, and he's interested in different style of drumming as well, so we are just experimenting.
Let's talk about that because to be honest Steve I've only heard a little of GHQ although I am aware of your work with Kurt Vile. But for me I loved your album with Mike Cooper and also Time Off which was the one that really got me.
It seems to me that working with people like Jack Rose and Mike Cooper is quite some distance from rock. Do you recall there were specific moments in your life when you moved towards these other people outside of rock where the influences are Arabic and Indian, and there are different scale? Or was it incremental.
It wasn't quite like lightbulb moment but a slow trajectory. I grew up in Philadelphia and I was playing a lot of guitar but I had limited resources, because I was just a teenager. But then I became aware o different outlets, like there was great radio stations and record stores and I already had an urge and desire to explore music, and I was then hearing things I hadn't heard before and I was really drawn to them.
I got interested in jazz and was just listening and it had a profound effect on me and I sensed the power of this music. And I was in Philadelphia, the place that was steeped in jazz history, John Coltrane was from there, Sun Ra and his band lived there . . .
So I discovered this whole other world. And being so enamored with John Coltrane I realised in his career he'd been influenced by Indian music and so that lead me to that, and there were Indian communities there which were selling cassettes and I was just buying the ones that had the most interesting covers.
The music blew me away and I was eager to figure out and listen more, and that set me on this path early on.
For me I come to things a little backwards. I started playing rock music a bit later, but in my early 20s I was into improvising and exploring sonics and tones and random things, and that paired me up with a lot of different musician . . . some who couldn't even play.
So that was something I veered away from because I devoted my time to practicing and playing a lot. So I went through a circle of different kinds of players early on and therefore came to songwriting a bit later on. So I had this interesting take on the way I play guitar and the way I approached writing songs.
So when you were at that age were you aware of people like Bert Jansch and Davy Graham, or did that come later as well.
Yeah, actually that came a bit later too. I was interested in the blues and jazz and I definitely discovered a lot of those things around the same time, particularly Bert Jansch and Pentangle. Then digging into their histories I discovered their influence an realising that Davy Graham was the more pivotal in that scene and that he helped blend the sound of traditional folk and then jazz and blues into acoustic music.
Davy Graham for me was, as you say, a real pivotal figure.
Oh yeah, such a genius.
Yet you never see much about him in magazines like Mojo out of Britain who are forever discovering obscure characters. He seems to be out there on a limb of his own.
Yeah, for him his influence is bigger than his output. He went through a fast change and didn't do that many full length solid albums, he didn't do too many albums where you can catalogue and explore his work.
But if you look a bit deeper and understand that style and where it is coming from he is one of the most important guitar players to come from that scene. He was trying to figure out how to play blue and folk in a particular way.
Not to discredit him, but I think that he was struggling with things ib his life and that affected his output. For me the album with Shirley Collins is the touchstone. It is mind-blowing and I feel that as he progressed and got older he was struggling with so many things in his life.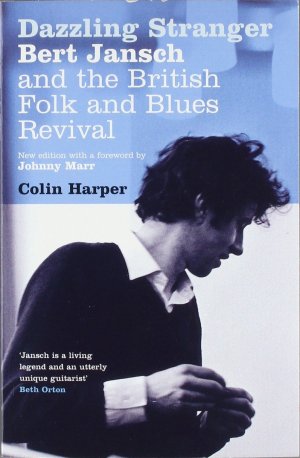 I just finished that very good biography of Bert Jansch, and now there was a man who struggled . . . and yet he lived a long time, longer than most people expected.
It that Dazzling Stranger?
That's the one. A bleak read.
That's for sure. [Laughs]
Mike Cooper is someone I discovered quite early on, those first three albums which have actually just been reissued. How did you come to him, was he aware of your work?
I was aware of Mike, I was turned on to him by Jack Rose. He ran a record store and pulled out one of Mike's records and at the time Jack was turning me onto a lot of music and Mike Cooper was one of the more important of them. I'd been a fan ever since and discovered that he had this super-interesting musical life and he he became this pure improviser after making three full length studio albums and was playing with Lol Coxhill and was involved in the London free jazz scene.
I also discovered he'd hooked up with this band from the US called the No Neck Blues band and he came to that States in the late Nineties.
So it was before my time of hanging out in New York but I was aware he'd come to New York and made this record which was this fascinating, homespun record which was improvisation and field recordings. It was outstanding. So I followed him a bit.
I was a fan and he didn't know who I was, but I was approached by this label Revenge and they were doing a collaborative series and take a younger artist and pair them up with someone who had an influence on them.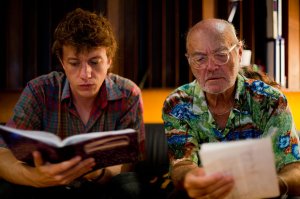 When they asked me who I was interested in I immediately thought of Mike Cooper because that would push me into different territories. It certainly did.
It took a little bit of convincing at Mike's end. I proposed this project and explained myself and the fact that I was a big fan and that I'd spent a number of years improvising but that I was also interested in songwriting, and he was from the other end of the spectrum where he had abandoned songwriting.
So we talked back and forth for a while and came up with this plan to record in Portugal, and that was a place both of thought was a perfect meeting point and where we could soak up the culture and reflect that back through the music.
We ended up having a wonderful time and became fast friends and we still keep in touch. And he introduced to me to many of his friends that he played with in the Sixties, these older guys who were hanging out in the mid-Sixties which was an awesome link for me.
I'm going to get the hurry-up Steve so . . .
[The link goes down again]
Okay, you are back with me briefly Steve, so very quickly. You are playing solo here, do you bring a lot of guitar and pedals and such? Or are you an economic unit.
I think I'll probably just bring two guitars and one pedal which is sort of manageable for one guy flying so far.
Robert Fripp used to refer to himself as "a small mobile intelligent unit".
Oh, very cool, I might have to use that. [Laughs}
For recent reviews of Steve Gunn albums at Elsewhere start here.
STEVE GUNN SOLO SHOWS
Thu July 13th - Auckland - Whammy Bar with Oscar Dowling

Fri July 14th - Wellington - Caroline with Ryan Prebble

Sat July 15th - Christchurch - Blue Smoke with Candice Milner

Sun July 16th - Queenstown - Sherwood with special guests