Graham Reid | | 1 min read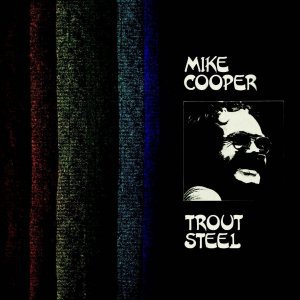 A few weeks ago when Elsewhere reviewed the predominantly guitar instrumental/experimental album Cantos de Lisboa by Steve Gunn and Mike Cooper, we confessed to knowing little about Cooper who counted among his folk and blues peers and admirers the likes of Bert Jansch and Davy Graham.
This album -- its title lifted from stoner-favourite Richard Brautigan's famous book Trout Fishing in America -- is a reissue of Cooper's third album from '70 and confirms the iconoclasm claimed for him.
It fits with the acoustic folk field but through lap steel, bottleneck and fingerpicking, he roams freely with jazz players from Mike Westbrook's band (alto, tenor, flutes), fellow guitarist Stefan Grossman, violin and percussion so that material like the 11 minute I've Got Mine feels more Van Morrison's Astral Weeks if the Belfast Cowboy had been schooled in free jazz and left-field folk.
Tellingly a seven minute piece towards the end is entitled Pharoah's March as a nod to jazz saxophonist Pharoah Sanders' free playing from this era which opens with a few minutes of what sounds like prepared guitar in the manner of Fred Frith before it stablises and a skittish sax part enters. Folk it ain't.
And interestingly, according the very good liner notes, many of the players' parts were overdubs (with no click track) across Cooper's solo guitar.
There's a stately, almost Elizabethan sound to the brief instrumental A Half Sunday Homage to a Whole Leonardo Da . . .; Don't Talk Too Fast is somewhere between Barry McGuire, Bob Dylan and Michael Chapman (with a squirreling sax solo) and In the Mourning eases towards an Anglo-take on American country-folk.
Like a prism, this frequently uncategorisable album shines different shards of light depending on how you turn it.
Trevor Reekie of Radio New Zealand did an interview with Mike Cooper in 2010. You can hear it here.