Graham Reid | | 2 min read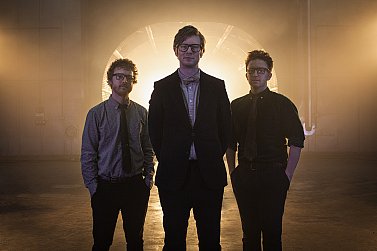 Over three albums, a batch of EPs, impressive videos and exciting live shows, Britain's Public Service Broadcasting have created a niche for themselves between the worlds of dance, electronica, rock, art music and audio-visual spectacular.
New Zealand audiences caught them at a Womad in 2015 but each of their albums -- and the attendant videos -- are mesmersing home-play delights.
For their debut Inform-Educate-Entertain in 2013 they sampled from archive films to create an album about the love of speed (aircraft, trains) and an almost Futurist embrace of technology and functional engineering. It was a 21st century sound palette but looked back to the Thirties and Forties when many saw the future in the rush of the mechanical age and the thrill of human endeavour.
It was among Elsewhere best albums of that year.
The follow-up The Race for Space was more specific as it again sampled from documentary films and newreels during the great period of spece exploration in the late Fifties and Sixties when space really seemed to be the final frontier and Man was starting to conquer it through feats of science, engineering and courage.
With it Public Service Broadcasting were again in out best album of the year list with it.
Last year's Every Valley was met with a more divided reaction, some felt it simply replicated their winning template of audio samples coupled with their archetypal big sound of guitars and electronics, and also felt its theme of coal mining was out of step with the discussion around fossil fuels and climate change.
But Every Valley was less about mining in Wales than about how communities rose and fell on the back of the industry, and how families and towns had depended on mining.
PSB completed a trifecta at Elsewhere when it too appeared in our best of the year list.
Now able to draw from three thematically different albums, PBS present a journey through the past from the Second World War to space exploration, from the top of the world and Everest to the depths of a mineshaft in South Wales. All with striking back projections of archival footage.
And on May 3 they bring their presentation to the Powerstation in Auckland for one show only.
It is very English in its formality and ironic sense of politeness and is the brainchild of J. Willgoose, Esq. (not his real name) who, along with drumming companion Wrigglesworth and bass player, keys and horns man JF Abraham present something which is as informative as it is entertaining.
We present below some videos from the three albums by way of a teaser for the Powerstation show.
For a 2014 interview with J Willgoose go here
From Inform-Educate-Entertain (2013)
for a review of the album go here
Spitfire
Everest
From The Race for Space (2015)
for a review of the album go here
Go!
Gagarin
From Every Valley (2017)
for a review of the album go here
People Will Always Need Coal
They Gave Me a Lamp
a 10 minute documentary on the making of Every Valley
.