Graham Reid | | 11 min read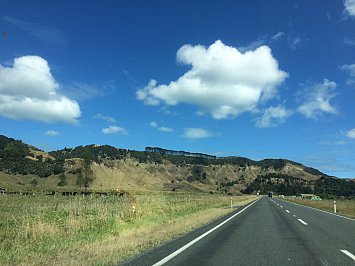 Driving in to New Plymouth at lunchtime on Friday under beautiful Taranaki skies, I scanned the channels and caught someone saying that this year's Womad – due to start about five hours after I pulled into the hotel carpark – was going to be a sell-out, the first since 2007.
Good, I thought. It deserves to be.
That's because the line-up this year was so strong. Mainstream punter-pullers like Sinead O'Connor and the Orquesta Buena Vista Social Club would drag in very different ends of the audience spectrum; the idiosyncratic Rufus Wainwright another audience again (although I doubt few would have bought a ticket just on the strength of his name, but he would be a curiosity for many),
And of course Richard Thompson who has a loyal – and somewhat starved – following.
And they were just the names which were on many people's radar.
Outside of that were the hardcore world music acts, about whom it's a fair guess most people had scant knowledge.
But that's in the nature of a Womad: you pays your money and you takes your chance. And chances are very high you will find plenty to enjoy.
So it was little surprise that two acclaimed acts on the opening night of this Womad festival should be so diametrically different.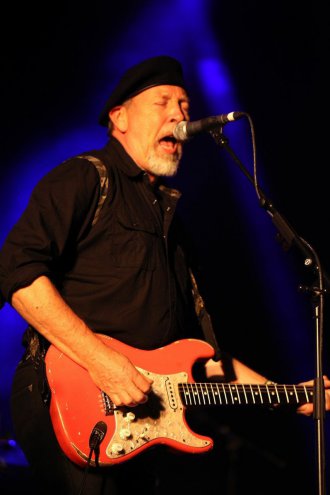 One was England's Richard Thompson and his electrifying trio who opened with the furiously angry Stuck on a Treadmill and Sally B from his most recent album Electric, went into his back-catalogue (an acoustic 1952 Vincent Black Lightning and an incendiary For Shame of Doing Wrong), offered a song about Amsterdam from his forthcoming album and closed with a tough treatment of Tear Stained Letter.
If his tribute to his guitar heroes (Thompson playing in the style of Django, Les Paul, James Burton, Chuck Berry and Hank Marvin) seemed a little indulgent, it was at least fun.
But when uncoiled his blistering psychedelic chops he was astonishing.
At the other end of the spectrum were the gently hypnotic sounds of Indian singer Meeta Pandit whose beguilingly melodic songs – some dating back to the Mughal era – seduced the early evening audience into a quiet reverie.
Her beguiling set at twilight – her voice endlessly and unpredictably melodic, at times sounding like a violin, flute or the harsh shenai – also included a section where she sang taranta (melodic syllables, check the seven minute sample track as you read on) in a playful duet with her tabla player.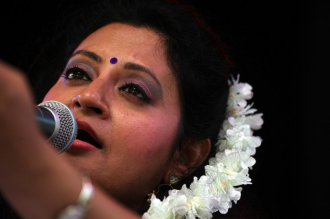 For me, after a five hour drive, it was the perfect introduction to this year's Womad, just as Thompson's thrilling set later got the adrenalin going in anticipation of a long weekend of music.
Between – and beyond – those poles is the essence of a Womad festival, where artists of enormous musical and cultural diversity find receptive, appreciative audiences.
If there's been a disappointing feature of recent Womads it's that some headliners (Hugh Masekela, Femi Kuti, Arrested Development come to mind) have been past their best.
Sadly Youssou N'Dour was another. There was no upward trajectory to his curiously subdued set just some occasionally diverting moments – the acrobatic dancer, talking drum solo and so on – where N'Dour was often incidental.
Despite repeated exhortations from his band's cheerleader to "put your hands" – the same annoying man who interrupted the bassist as he began his solo to introduce the bassist who would now do a solo – there was no shape to what they were doing.
The lack of volume and intensity meant N'Dour's set never really got traction, but it was all pretty hopeless anyway. His most recognisable hit Seven Seconds was given a perfunctory treatment, the Neneh Cherry part of the original taken by a backing singer "from Africa".
The whole set felt lacklustre and disjointed.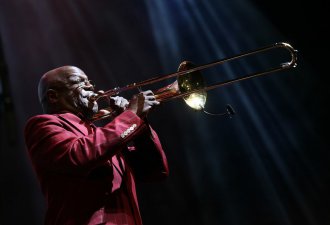 Not so others on the main stage.
The Orquesta Buena Vista Social Club may have started quietly but by adding members, introducing the remarkable 84-year old singer Omara Portuondo (whom I saw in my hotel lobby and she looked a tiny frail sparrow), kicking in with their signature song Chan Chan and creating a playful but emotional programme, they won the huge audience while behind them images from their remarkable past played out.
They might have this one down to a highly scripted exercise – Barbarito Torres playing laud behind his back and so on – but it was a sheer delight and, on just a purely musical level, one of the best concerts of the weekend.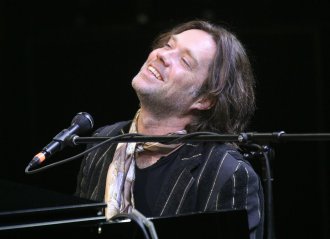 Equally impressive was Rufus Wainwright who delivered a well-judged set and offered -- among other delights -- Out of the Game, Kate McGarrigle's Work Song and Leonard Cohen's Hallelujah (cue resounding applause and a singalong). He won the massive audience with his humour (he said he had a "best of" CD available, unfortunately not a "greatest hits"), crisp articulation and soaring or intimate voice.
I believe his set was recorded for later broadcast, but if so someone might want to listen to the lyrics of Gay Messiah carefully.
Right at the end he was playing an intense piece when a very large bug flew close to his head and he ducked, stopped, laughed, said, "That was a huge bug!" then picked up where he left off.
He got a well deserved standing ovation.
Bombino from Niger brought a powerful rock sound from the Sahara where the repeated guitar phrases and fluid but solid bass created a driving momentum in the manner of Sahara blues, but in his solos guitarist Bombino took everything in a very rock direction: their final piece sounded like Cream's version of Crossroads hot-wired into some North African outlet.
Of course most attention alighted on Sinead O'Connor's sole appearance: "She's landed," I was told by someone expressing relief, "She's got a cold and may not go on" said someone else. Speculation about her health and well-being was high.
I suspect many were curious to see if the unpredictable performer would make it at all, and would she screw up.
However – barefoot, in a dog collar and wearing a large crucifix – she was in excellent form.
Opening with John Grant's Queen of Denmark, she mostly went into songs from her new Bossy/Boss album which seemed unfamiliar to the huge audience (otherwise her terrific Take Me To Church would have been a singalong) and was clearly enjoying herself.
Her voice is still a powerful instrument and, although seeming constantly troubled by sound and her earpiece – she delivered rock, ballads and a cappella songs with assurance. She is an artist who performs open-heart surgery on her soul and is always going to be exactly who she is, be that happy, angry, maternalistic (she proudly mentioned her 27-year old son sitting the wings with his pregnant partner) or brutally honest.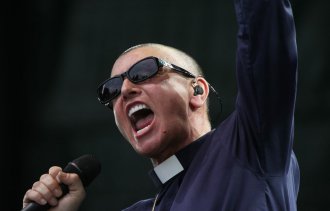 Dedicating the hurt passions of Dense Water Deeper Down to "Robert fucking Downey Jr", during the instrumental break she mouthed to camera "He fucked me" to the crowd's great delight.
Even new and complex songs like Harbour kept the huge crowd's attention.
She closed with a lovely solo version of Streetcars before bringing the band back for the much anticipated Nothing Compares 2 U. She got through two verses, was distracted by a duck on the pond before her, burst out laughing and called it a night.
Her set was a real highpoint.
A bug for Rufus on the same stage at the same time the previous night, and now a duck for her?
Womad is different alright.
Across the weekend there were numerous highlights.
The energetic Malawi Mouse Boys offered vigorous and enjoyable sets of harmony singing and stage antics – perilously close to twerking at one point -- with their folk-gospel harmonies.
Cheapest band on the bill to tour I would think, just a few guitars and for percussion a cardboard box and a tin can they could pick up on site.
And, as with so many Womad artists, they wore huge smiles and seemed very glad to be there and appreciative of the response they were getting.
From Southern Italy – Puglia to be exact – came Canzoniere Grecanico Salentino whose coarse vocals, strident delivery, driving percussive rhythms and taranta dancer were utterly compelling. Vocalist Maria Mazzotta might not have the sheer cut-through power of Anna Cinzia Villani who sang with the similarly-framed Nidi D'Arac last year, but on the ballads she had more emotional power and nuance. An exceptional if demanding set.
The drama, melodrama, tension and release of Puerto Flamenco brought the passionate, sensual and melancholy spirit of Spain to an enormously appreciative crowd. I have only experienced two authentic flamenco dance groups but one thing is clear: the dancers are all about half a metre shorter off-stage than on.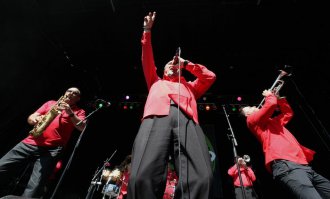 (Afterwards I offered one of them a seat in the bar area and he said, "Thanks mate". I forgot some of them were from Australia.)
Among the many popular acts were Romania's big, boisterous Fanfare Ciocarlia who – under the sweltering heat of an afternoon session hulking large instruments and wearing classy red shirts and dark pants – mixed the sound of a brass band, gypsy jazz orchestra and a never-gonna-stop wedding band while delivering danceable traditional songs peppered with raucous covers (Caravan, a snatch of Summertime I believe and yes, Born to be Wild) to great effect.
Both Balkan Beat Box and Jupiter with Okwess International offered sets for those who could dance for an hour and "jump jump".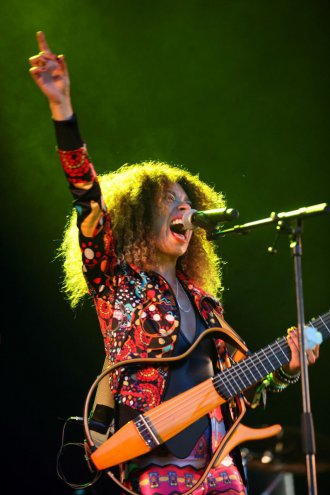 Huge-haired and joyously enjoying herself, Flavia Coelho and her band brought samba-meets-dubbed up bossa which kept her large audience dancing into the night on Saturday.
I was told Che Sudaka from Spain quickly sold out their CDs on the strength of their fiery hybrid of ska-punk and extraordinary stage energy . . .
But to me if they had been from LA or Brooklyn we might have considered them just another furious ska-punk band.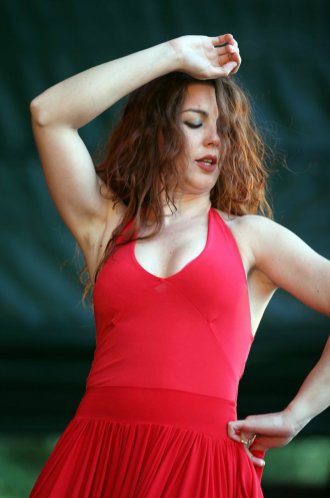 Lake Street Dive won their capacity crowd with literate lyrics and songs rooted in classic soul with a hint of jazz, and – not the least it must be said – singer Rachael Price's alluring stage presence.
Someone quipped to me they were the best thing to come out of an American jazz school in decades, because they didn't play jazz.
Local artists did exceptional well.
Tahuna Breaks offered astute, slick and enjoyable sets of soul-funk grooves; singer-songwriter Mel Parsons held her large audience with an assured and captivating set of recent work and impressive new material; and Estere's quirky stage presence and multilayered electro-pop was much appreciated by even the older members of her audience.
The standout for me was Flip Grater's songs of hushed European elegance and Cohensque lyrics made her a talking point.
She was quite a star.
And in every case these local artists confidently engaged their audience between songs with background stories or some personal observation. Thank God that stupidly self-effacing "Jeez shucks" Kiwi foot shuffle is passing.
A question though: The New Zealand contingent – which also included Lazarus-like Trinity Roots whom I missed in favour of internationals, knowing they will rise again – were all on the mainframe of pop-rock/reggae-soul culture.
For a Womad I wonder what our "world music" is?
(I do know the answer, as I am sure you do.)
As with any festival, there were acts which people either enjoyed with a passion or just walked away from.
The Irish group The Gloaming divided opinion. Some thought them a highpoint for their quiet precision and almost classical framing of Irish music, I thought their set misread the occasion. Any time the tempo went up the crowd was poised to dance . . . but it was not to be as the long pieces wound their way back down into quiet consideration again.
Intelligent, thoughtful and not a little academic, their music was more suited to the concert chamber than an outdoor concert.
That said, there were other acts who delivered something not dissimilar but were much more successful.
The sensible removal of the bar near the Dell Stage allowed for a larger audience and freed up what has always been a noisy, distracting bottleneck, but even that extra space couldn't accommodate the crowd for the legendary Toumani Diabate and his son Sidiki.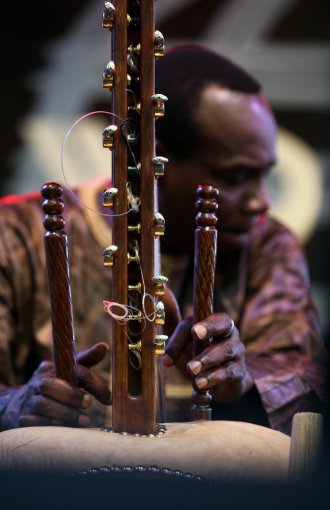 Their performance of elegantly interweaving lines on their 21-string koras sat somewhere between Elizabethan lute and a harpsichord recital (until the end when young Sidiki busted out his electro hip-hop chops).
Their ineffably sad piece Lampedusa – about the Italian island where so many migrants from North Africa try to reach – hushed the audience. The plight of migrant peoples was a common theme for a number of artists and groups.
An equally large crowd appeared for the intense, sad but celebratory music of Palestinian Ramzi Aburedwan.
A lullaby which is also a freedom song is a rare thing and there was an almost palpable sense that the audience was sympathetic to the cause of the Palestinian people.
Both of these were memorable performances.
Of the other acts one had a weird appeal, the diminutive figure of Bolivian singer Luzmila Carpio. With a group of younger musicians (none of whom I took to be Bolivian), she sang songs about the Quechua tradition and the programme described her voice as "shrill".
To me she was like Yoko Ono when she (Ono) sang those childlike songs. I can't say I actually liked it, but I did find it so fascinating that I went to buy a CD and, to my surprise actually, they had all sold out.
I intend to explore her sound further, it was just . . . different.
And in a nice touch – which says so much about the generosity of Womad audiences -- when she lost all sound on the stage in her afternoon session she kept singing (inaudibly) while the audience clapped along and cheered her on. A genuinely touching moment.
Over the two days and one night it was possible to miss certain acts and I did, but seemed to catch at least half an hour of most, and full sets of many.
The last music of the weekend came from the hugely popular English duo Public Service Broadcasting whose mix of live instruments, samples and film footage (on a screen the size of a classroom whiteboard!?) was as much a pleasure to watch as to dance to.
Rather than speak to their audience they had pre-programmed voices in their laptop (think Stephen Hawking), the best of which was, "Who wants to hear a song about ice-skating . . . in Dutch? Good. We have one". And they did.
They closed with their piece Everest, which was a nice touch.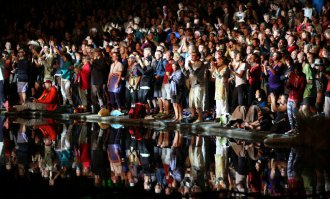 Other observations? Soul funk rather than reggae now seems to be the default position for many world music acts (that's a relief) and it was disappointing the Artists in Conversation programme was dropped as many of these musicians have important – and often horrific – stories to tell. And the receptive Womad audience deserves the opportunity to hear them.
Other than that, it was – with a few exceptions – one of the strongest line-ups in years.
And under blue Taranaki skies this was the first sell-out since 2007.
Even though it felt like it – it was mighty crowded in some areas – it deserved to be.
For considerations of previous Womads at Elsewhere see here.
All photos here -- other than the top one -- are by Glenn Jeffrey, a former New Zealand Herald photographer (Qantas Award, press photographer of the year). He is now a freelance photographer living in Taranaki. His work has been widely acclaimed and he can be contacted on 021 957452 for commercial work, artistic portfolios or commissions. He also won Best Vegetable Animal at Central School in 1971.
Elsewhere will shortly feature more of his work. All images copyright.