Graham Reid | | 1 min read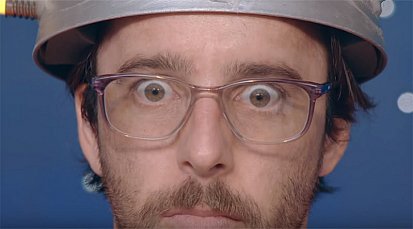 With their new album Invisible Lines due out on Friday (August 3) we thought it timely to flick through the backpages of Ha the Unclear's videos just to offer a reminder of what was and what they are now.
And the conclusion is that -- then and now -- they are a quirky, melodically powerful, lyrically interesting and utterly fascinating pop-rock band with their own take on . . . well, on whatever takes singer-songwriter Michael Cathro's fancy.
And it's often rather deep and thoughtful. And maybe an odd perspective.
There is a tour pending (dates below) as well.
Elsewhere has favourably written about their earlier album Bacterium, Look At Your Motor Go, will be doing the same for their new one and also has an interview with Cathro in our archives.
So let's roll the tapes and start with this . . .
Michael Cathro explains why the name Ha the Unclear in 2014
Kosmonavt from Bacterium, Look At Your Motor Go (2015)
Growing Mould from Bacterium, Look At Your Motor Go (2014)
Secret Lives of Office Furniture from Bacterioum, Look At Your Motor Go (2014)
Stuck in My Head from Invisible LInes (2018)
Wallace Line from Invisible Lines (2018)
Mannequins (from Bacterium) live 2018
HA THE UNCLEAR TOUR DATES