Graham Reid | | 5 min read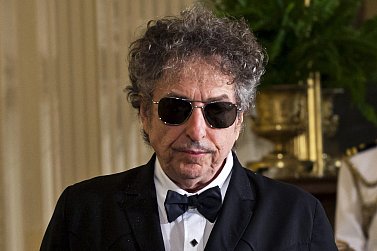 Given that his singles rarely troubled the charts, one of his few videos which gets any airtime these days is 35 years old (Jokerman) and his albums have long since ceased to appeal to a younger demographic, how might you explain Bob Dylan to anyone under 30, someone who might have only become aware of him in the 21stcentury when he was already in his 60s?
Maybe you can't but you could try this.
Show them his 2003 film Masked and Anonymous which he co-wrote with Larry (Seinfeld) Charles and in which he appears as some strange version of himself (a rock legend) in some Hispanic state which is tipping over into anarchy and violent revolution.
Dylan plays Jack Fate, released from prison to play a crowd-appeasing concert, and he shambles through the story which makes reference to his own life, Woodstock, politics and so on. Other people sing his songs and it is often a bewildering but quite gripping movie in which nothing is revealed or resolved.
You can imagine the conversation afterwards.
"So, what did you think?"
"Weird, I just don't get it."
"Good, now you're getting it."
And right there you have the Dylan Perplex, this mass of contradictions, the man who won a Nobel Prize for Literature and appeared in a Victoria Secret's ad, who wrote The Times They Are A-Changin' and Wiggle Wiggle, who is a renown lyricist and doesn't speak to his audience, a blindingly original and sometimes idiosyncratic songwriter who has most recently recorded albums of standards, a public figure with an intensely private life . . .
He is indeed a walking contradiction, but then aren't we all?
As Walt Whitman wrote more than a century and half ago: "Do I contradict myself? Very well then, I contradict myself. I am large. I contain multitudes".
With Dylan we need to live with and accept these contradictions, not try to untangle them.
But yes, trying to introduce this enigma to people at this time is always going to be problematic.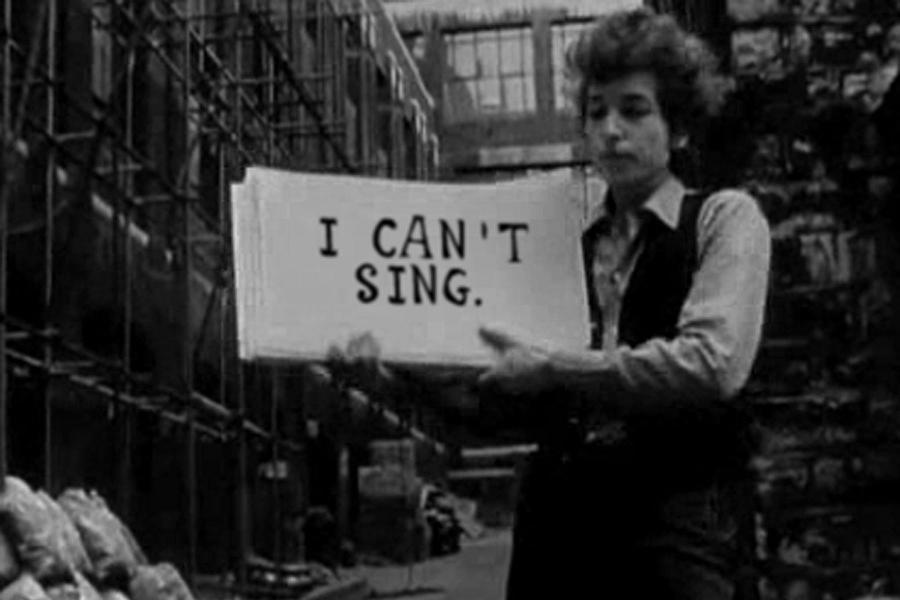 Anyone who went to one of his recent concerts knowing little bar the legend would be understandably confused: What's with this old guy who can barely sing the words you can hardly understand and who shields himself behind a piano without a spotlight?
Most people would be forgiven for wondering aloud: What's so great about this guy?
Of course, there's much more to this man who re-calibrated the direction of popular music at least three times: Making tired folk contemporary and relevant in its themes; introducing literate and poetic lyrics into rock music when he plugged in the electric guitar; and bringing Americana to the fore on his John Wesley Harding album when the world was going day-glo Sgt. Pepper in the Summer of Love.
And that's without mentioning his remarkable canon of mythopoetic songs in the 21stcentury.
For a slight man he is a towering figure.
But try explaining this to those who can't understand stadium shows without sidescreens (he's rarely had them on his recent tours) so they can see who they've paid to see.
But Dylan isn't Cher with her costume changes, back-projections, Cirque de Soleil-style presentation and chat..
He is . . . Bob Dylan.
I've seen Dylan in New Zealand eight times. I've witnessed him at his best (Western Springs in 78, Spark Arena this past August) and his worst (with Tom Petty and the Heartbreakers in Mt Smart Stadium in 86, at the Supertop in 92 when he seemed drunk and/or bewildered).
And at points in between: Vector Arena and the Civic in 07, North Shore Events Centre in 98 with Patti Smith opening, and there again in 03.
And so, to use the current jargon, "What's the take away?"
That for the past 40 years Bob Dylan has not been for the faint-hearted or those who want to hear the songs just like they were on a favoured album, that he has always been in a state of constant re-invention and emotional flux and his songs -- old and new alike -- reflect that in melodic and lyrical changes.
Nope, he's not easy.
But he is, because of all that and more, a unique figure in popular culture.
At the memorable Western Springs concert he was helming a rock band and was ebullient ("I'd like to say 'Hi and hello' to the Highway 61 motorcycle gang"). But even then he was reshaping classic songs (All I Really Want to Do in a reggae style) and shuffling lyrics (a very different Simple Twist of Fate).
So it's not like we weren't warned a long time ago that Dylan live was always going to be a very different experience.
For his Civic show in 07 – a return concert after his Vector Arena appearance – I bought a ticket at the last minute. I was in the back row of the "upper circle rear" and all I could see of Dylan was the top of his hat. No matter, it was always about the music and what he did with it.
Beside me were a young couple, maybe early 20s, who told me they were very excited, they really loved his albums Freewheelin' (63) and Times They Are a-Changin' (64). They were folk singers themselves.
I pointed to the stage set-up with drums and a bunch of microphone stands: "You know he has a band, that this is a rock concert, right?"
They didn't. They left after three songs.
Going to a Dylan concert with little prior knowledge other than he's A Legend will always lead to such disappointment.
That said, at the dire Tom Petty/Dylan show in Auckland – the opening concert of their world tour – they came off like a stoned bar band rehearsing in public away from the gaze of US and UK critics. But, because I worked there selling t-shirts before the show started, many in the audience – those who made it beyond collapsing just inside the entrance I was at – were primed on bottles of Jack Daniels and cheap vodka. Not the most discriminating crowd.
And much of what Dylan and his cracking band played recently was grounded in Chuck Berry-style rock'n'roll from a time when a new music came into being out of the flashpoint of country and rhythm'n'blues: The music of Dylan's formative years as a teenager who loved Buddy Holly and Little Richard.
Songs like Highway 61 Revisited, Summer Days, Thunder on the Mountain and even Gotta Serve Somebody (his most secular song from the gospel/Jesus period) – songs separated by four decades -- had dance-ready deliveries. But in the formal setting of the arena where people were asked to keep their seat (and politely did) they didn't get the audience lift-off they deserved.
Sometimes it might be the audience letting the artist down, and not the other way around.
Bob Dylan has rarely been the performer that people expect or perhaps want, even at his most engaged and persuasive he's never going to deliver something as crisp and polished as an Eagles concert, or with the pizzaz of a pop culture icon like Beyonce.
He's a singular artist who can't be conveniently categorised or shoe-horned into being An Entertainer with big screens and "wave your phones in the air" stage banter.
But who else has written over 600 songs (and recorded around half that many), lived through 14 US Presidencies and outlasted most of their peers and heroes (Little Richard the notable exception in Dylan's case)?
He has accrued more accolades and acclaim than anyone else in popular music.
Even at 77 as he was when playing here recently, he just keeps going.
When it stops, as it must, his legacy and life and music will be impossible to distill for an obituary.
Oddly enough a film like Masked and Anonymous would be as helpful as any single album in assessing a legacy of half a century of music, performance, writing and artwork.
They were writing books about Bob Dylan in the 60s and more than half a century later they still are.
And, for better and sometimes worse, he wrote a new chapter himself with every album and performance.
There is much more at Elsewhere about all aspects of Bob Dylan's long career starting here.