Graham Reid | | 3 min read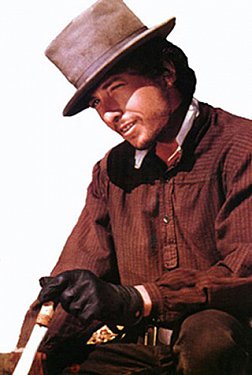 Somebody at the University of Applied Narcotics in San Francisco has probably written a thesis about Bob Dylan's bizarre film career. Like Neil Young, Dylan appears in movies which make little sense to anyone, possibly even himself.

Yet it all started so well.

The terrific doco Don't Look Back, by Don Pennebaker, of Dylan's brief British tour in '65 captured him toying with journalists, being evasive and witty, and playing incendiary music. He flipped cue-cards to the lyrics (sort of) to Subterranean Homesick Blues. It was a forerunner of rock videos, and was Bob's idea.

It's a great rockumentary, unlike the follow-up Eat the Document, a nonsensical home movie which Dylan edited and insisted on scenes in which he acted. Bad mistake.

He appeared in Sam Peckinpah's '73 western Pat Garrett and Billy the Kid, but the best that could be said about his acting was that his character had a great name: Alias.

The soundtrack gave Dylan one of his most enduring hits, Knocking on Heaven's Door, but it's whispered that because of his limited abilities Peckinpah gave him just one line of dialogue at a time to negotiate.

Alias is an observer and commentator. The part probably appealed to Dylan because it had an outlaw sensibility and a coded detachment, much like his own.

For his confusing Renaldo and Clara five years later, he hid himself behind a clear plastic mask or thick makeup. There are fantasy sequences, and more "acting". There is also a huge cast, including Joan Baez, poet Allen Ginsberg and just about anybody on hand at the famous Rolling Thunder tour during which it was shot. They clutter up the screen.

For the mainstream Hearts of Fire in '86, Dylan played a legendary music star whose career had faded. It questions the nature and promises of stardom and perhaps that's what he liked about it.
There was nothing likeable for anyone else - it's a stinker. (Couple of decent songs though.)

If there's a pattern to Dylan's wooden film appearances, it's that they come when his music career is in limbo. Right now however Dylan's status as the last great troubadour - rather than the voice of a generation as he was in the Sixties - is assured and his recent albums have been acclaimed as among the best in a 45+ year career.

He has also written the first and insightful volume of his autobiography. That makes it surprising he should have undertaken Masked and Anonymous, a self-conscious directorial debut by former Seinfeld writer and producer Larry Charles. It is a floundering affair which is sometimes mischievous, occasionally wry and mostly rubbish.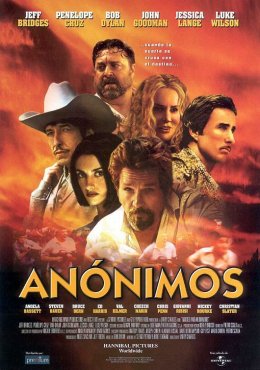 There is much of Dylan in the character: it takes place in an imaginary near-future in an America ripping itself apart in a civil war. The legendary rebel musician Jack Fate (Dylan) is in prison but is released to play a concert which will unite the nation.
So far, so lousy, huh?

It gets hilariously worse. The script is riddled with references to Dylan's past ("So Jack, why didn't you play Woodstock?"), hammy characters are given symbolic names (Jeff Bridges the seedy journo is Tom Friend), and the story makes little sense.

What is of interest are the allusions to Dylan and his long career -- during which Dylan stands mute and detached -- and a certain sense of dislocating irony: this is Bob making fun of Dylan?

Dylan songs are scattered throughout, some when the band rehearses and at other times in Spanish from other singers. They also add a sense of counterpoint to what is (or more correctly, isn't) happening on the screen. If Dylan and Charles had a tale of some myth or a futuristic vision of Spanish USA then it fails miserably.
But is impossible to tell what anyone had in mind.

Cameos by Val Kilmer, Christian Slater, Mickey Rourke and many more crowd the screen and it's as if Dylan - as with Renaldo and Clara - is happiest when attention is pulled away from him. He's the insider/outsider just as Alias was . . . and in the posters he is off to one side, the man on the margin.

It's a curious approach to acting in what may be one of the most amusingly muddled, if not worst, films ever made.

Good songs though. But that isn't the point of a film really, is it?
Oh, and by the way . . . Masked and Anonymous is, if you are interested in Bob Dylan, utterly fascinating.
But you got that, right?
Interested in this? Then check out this, where a pop star plays a pop star.