Graham Reid | | 2 min read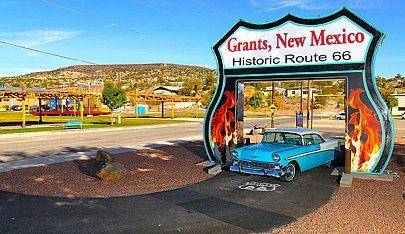 Route 66 has been covered by everyone from Chuck Berry and the Rolling Stones to big band jazz groups and bar bands everywhere.
It's a rock'n'roll standard largely because of Berry's version so . . .
Here's Chuck Berry from 1961 who made this song into a rock'n'roll era hit in the late Fifties, even though its origins were earlier.
and his version influenced the young Rolling Stones -- who had not been to America at the time but were seduced by the romance of the kingdom of the blues/r'n'b etc -- who covered it in '64
The Rolling Stones: Route 66 (1964)
And this is the retro-rockin' Strypes out of Ireland in 2012, obviously influenced by the Stones' energetic treatment of it
It has been appropriated by just about every genre.
Pub rock by Dr Feelgood
Tom Petty and the Heartbreakers
This is close to the original by Bobby Troup, by Asleep at the Wheel in a Western Swing style
Nat King Cole swings it too
This is the Munich Swing Orchestra with the Funny Valentines recorded in Bavaria
So there are a lot of swing treatments, for a reason.
But here's Depeche Mode
and Billy Gibbons of ZZ Top
And here's the guy who wrote it so he must know how it should go
But there is an original version which few people know . . .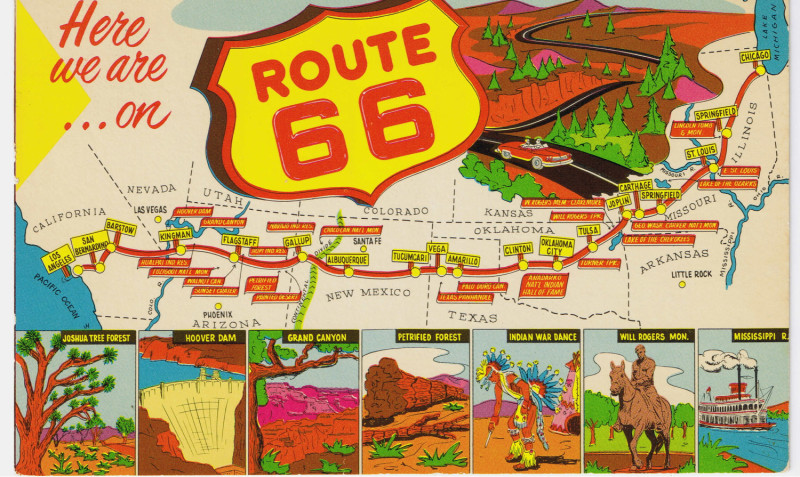 And it comes with an intro/verse.
The song was written in 1946 by Troup when roads and highways were opening up, Detroit was churning out automobiles and the highway symbolised the freedom of the American Dream.
(Or as Steppenwolf sang in their late Sixties classic and rather tougher Born to Be Wild biker/Easy Rider classic: "get your motor running, head out on the highway . . ." )
This is Perry Como -- a jazzy crooner -- from 1959 singing the whole, original version of Route 66 with a jazz band, because that's how the song was conceived.
And it sounds very much like an a hip advertisement for a Fifties car dealer.
And check the set-up intro/verse which was very common in the Forties and Fifties (and which Lennion-McCartney used for Do You Want to Know a Secret and Misery on their debut album Please Please Me)
Perry Como, Route 66
And this book might be of further interest.