Graham Reid | | 4 min read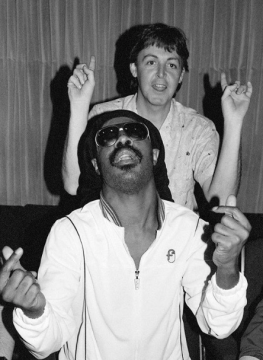 When Paul McCartney left Wings and the Seventies behind he delivered his still interesting McCartney II album of songs and
electronic experiments
.
Danny Baker in the NME wasn't impressed in those heady post-punk days: "McCartney II isn't worth the plastic it's printed on," he wrote.
Then he put the boot in: "Neither is Paul, but he'll go on doodling and fooling the public because they're too frightened to ditch him and his past, and he's too rich to be stopped".
Baker didn't do reviewing duties for NME on McCartney's next album Tug of War in April '82.
That fell to the waspish, brooding and often angry Nick Kent who – against all expectation – wrote, "Tug of War, laboriously conceived and obsessively buffed to a pearly perfection is the first Macca album since Band on the Run to present the sturdy Macca as an artist out to re-establish his credentials and remind not merely the dead rock critics who've needled him ceaselessly since the Beatles' demise, but also the potential gargantuan audience, that this man, only a month away from from his 40thbirthday, is still a contender".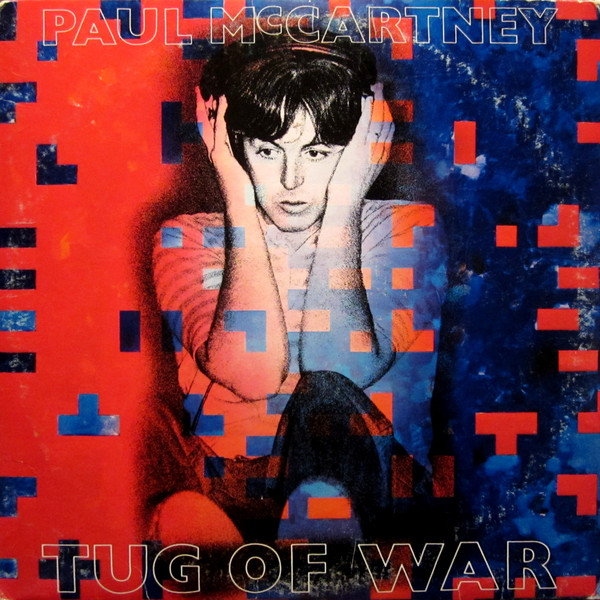 Stephen Holden writing in Rolling Stone opened his five star review with, "Tug of War is the masterpiece everyone has always known Paul McCartney could make. In style and format, the album isn't all that different from his earlier work, but the songs are far more substantial than the eccentric doodlings of recent albums."
Holden – as did other writers – noted McCartney was back with Beatles' producer George Martin (and the album was the better for that), and Paolo Hewitt in Melody Maker grudgingly conceded in a largely negative review ("unbearably coy, sentimental, worthy, nostalgic and pretty predictable") that McCartney was putting effort and imagination into his work.
Something you couldn't have said about the final Wings album Back to the Egg.
So what happened?
Well, he took time out, necessarily after the shock of John Lennon's murder at the end of 1980. He didn't release an album in '81 (the first year he hadn't since 1962) and doubtless took stock of his life as he approached 40 as an ex-Beatle/ex-Wingman.
When he had the songs together he reconvened with Martin, Beatles' engineer Geoff Emerick and a stellar cast – brought together by Martin to challenge McCartney -- which included Wings' guitarist Denny Laine, 10CC's Eric Stewart, jazz bassist Stanley Clarke, guest drummers Ringo, Steve Gadd, Dave Mattacks and Adrian Sheppard, Roxy Music saxophonist Andy McKay (on lyricon) . . .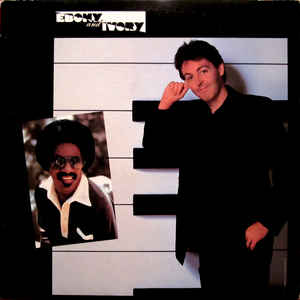 And most notably Stevie Wonder for two songs: the terrifically funky six and half minute What's That You're Doing? and the chart pleasing if sentimental Ebony and Ivory.
What was mercifully unsentimental was his lovely tribute to Lennon on Here Today.
He admits to Lennon's cynicism ("knowing you, you'd probably laugh and say we were worlds apart if you were here today") but then confesses "I am holding back the tears no more, I love you . . ."
With Martin's discreet but lush strings and the acoustic guitar, this one works with subtle melodrama ("what about the night we cried") and remains a genre-piece within his canon of ballads, yet a very fine one.
"It's tough when you have someone like John slagging you off in public," he said later, "cos he's a tough slagger-offer.
"So I wrote this song to try and come to terms with it."
The album had its ordinary crowd-pleasers (Ballroom Dancers), slightly odd pieces (The Pound is Sinking) and alongside the lightweight but serviceable pop (the catchy Take It Away) there was the soft rockabilly duet of the throwaway Get It with his childhood hero Carl (Blue Suede Shoes, Matchbox) Perkins and the workmanlike rocker Dress Me Up As a Robber given additional colour through a Spanish guitar part.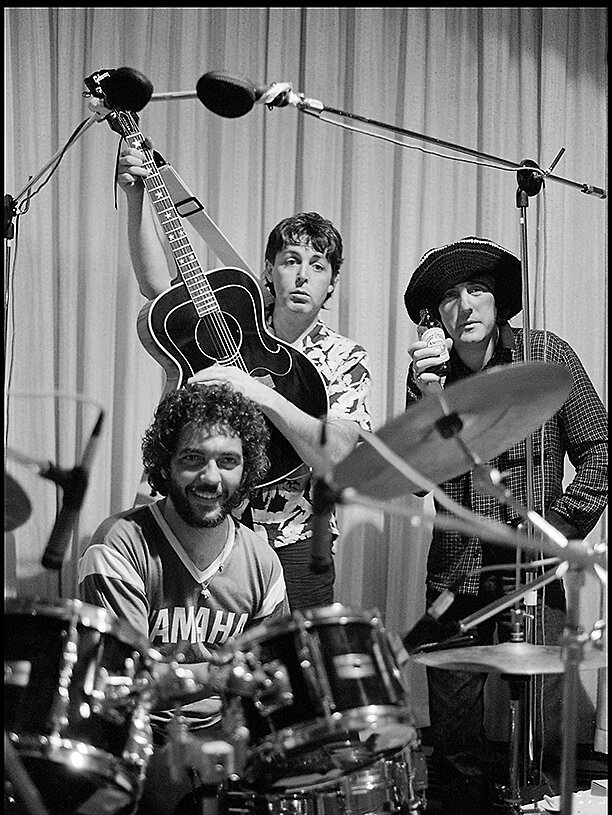 The 2015 deluxe edition of the remastered reissue in the Paul McCartney Archive Collection added a further album of demos among them a version of Ebony and Ivory on electric piano and some inconsequential additional and unrecorded tracks, the b-side Rainclouds which McCartney, Laine and the Chieftains' Paddy Moloney worked on the day after Lennon's murder . . .
There was also a remix of the original Martin/Emerick album by Steve Orchard and McCartney (which for most would seem surplus to requirements) as well as a DVD of the clips for the title track (two versions), Take It Away (a Beatle-referencing story with actor John Hurt as an Epstein) and Ebony and Ivory.
The accompanying book with an essay is excellent, the other book is of photos taken at the time on Montserrat where the first sessions were held at Martin's now-gone AIR studio.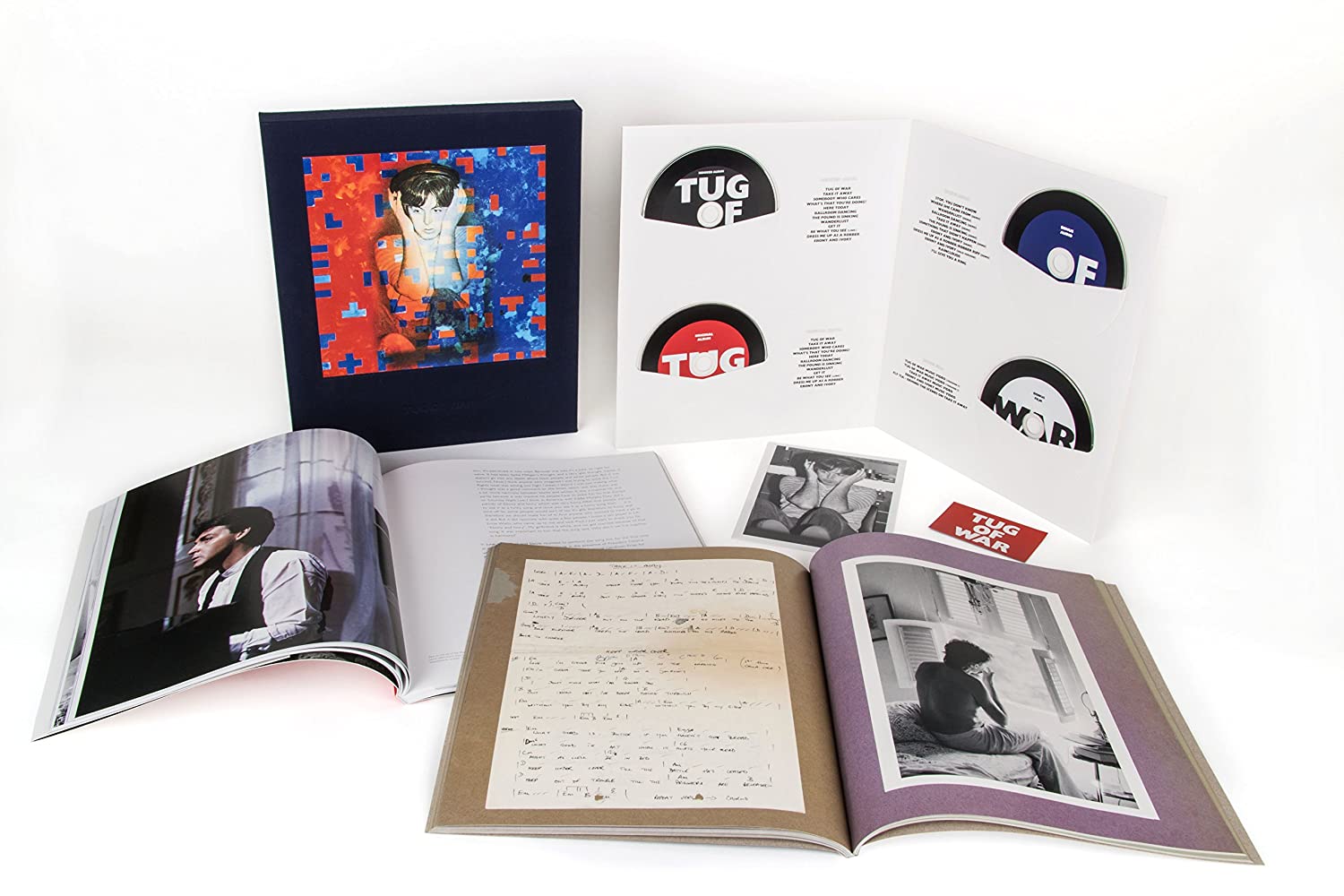 Although a few reviewers – very few in fact – were reluctant to admit it, Tug of War was a real return to form for McCartney in his post-Beatles incarnation and although there was still a soft centre in some songs, or material brought into sharper focus by Martin, it appeared to mark something of an artist resurrection.
Unfortunately the companion album follow-up Pipes of Peace (again with Martin) proved that Paul McCartney's default setting would always be a lazy lyric until he was challenged by Elvis Costello for Flowers in the Dirt at the end of the decade.
But even then . . .
.
You can hear the expanded, remastered version of this album on Spotify here
.
There is a considerable amount about the many and various aspects of Paul McCartney's long career at Elsewhere, start here.
.
Elsewhere occasionally revisits albums -- classics sometimes, but more often oddities, or overlooked albums by major artists -- and you can find a number of them starting here