Graham Reid | | 3 min read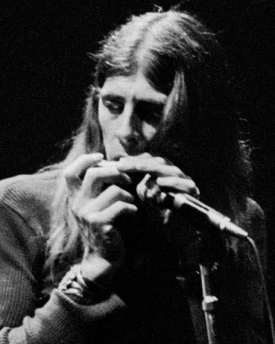 One afternoon in late '69, while walking in central London, I saw a striking album cover in the window of a record shop across the road. It looked to me like Brian Jones blowing a harmonica, and for a moment I hoped it might be a posthumous blues album by the founder of the Rolling Stones.
Still looks like that to me today, more than half a century on.
Hard to shake first impressions.
The album was in fact The Turning Point by John Mayall whose albums I had followed even before his thrilling, cutting edge "Beano" album with Eric Clapton, and I'd especially loved his concept-cum-travelogue album Blues from Laurel Canyon (with Peter Green and Mick Taylor, a longtime Essential Elsewhere album) of the previous year.
So back in New Zealand a month or so later I bought The Turning Point, unheard and without even reading the back cover notes in which Mayall explained the title: he was moving in an acoustic-framed direction (no drummer) with Jon Mark on finger-style guitar, bassist Steve Thompson and saxophonist Johnny Almond (who, after another album, with Mayall teamed up with Mark for the Mark-Almond Band).
The Turning Point album was recorded live at the Fillmore East and, Mayall said, the band had only come together four weeks previous.
As with many people, I've always found Mayall's almost adenoidal vocals pretty hard to take and mostly – then and now – came his Bluesbreakers or other albums for the guitarists (Clapton, Taylor, more recently Coco Montoya) and their versions of blues standards or obscurities.
But albums like Blues from Laurel Canyon showed him to be an increasingly interesting and autobiographical songwriter and the material on this album stemmed from that sojourn to LA and up the coast.
The absence of a stellar lead guitarist hardly seems to matter here as Mayall played eerie slide (Saw Mill Gulch Road), Mark (who ended up in New Zealand about two decades later and made acclaimed ambient music) stepped up with delicate finger-picking or Almond took over with flute and saxes.
The absence of a drummer also goes unnoticed on the standout Room to Move which closes the original album with a punch.
It's interesting too that at the time the great bluesman JB Lenoir – who had died two years previous at 38 – was still such a marginal figure that Mayall would pen the fine I'm Gonna Fight for You JB, a song which allowed Mark to shine.
(The reissue programme and acknowledgement of Lenoir wouldn't happen in any meaningful way until the late Eighties.)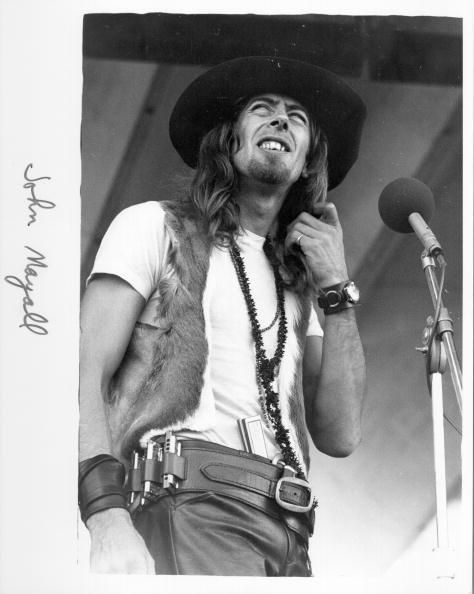 Elsewhere Mayall's mind is back on that trip: The Laws Must Change is about drugs and the police harassing hippies and kids but the 35-year old Mayall counsels caution rather than confrontation; Saw Mill Gulch Road is about a brief encounter with a woman up in Monterey (Mayall often sang about such incidents, and Medicine Man on Blues from Laurel Canyon is about the cost sometimes, like getting the clap); So Hard to Share – a jazz-blues tune owned by Almond – is about a possessive guy who got between him and a woman . . .
Then there's the blue-mood of the midnight Thoughts About Roxanne which is . . .
Well, you can guess.
Like the nine minute-plus California – which is a terrific groove over Thompson's bass with Almond soaring on alto – Thoughts About Roxanne is a close cousin to some material on Blues from Laurel Canyon.
There would be another album with these players (the lesser Empty Rooms, with bassist Larry Taylor)) but this anticipated his other turning point, the live Jazz Blues Fusion album in '72 with the great trumpeter Blue Mitchell and saxophonist Clifford Solomon.
On The Turning Point Mayall didn't have to yelp over an electric band and so the album is the better for it, but the best moments are when he doesn't sing and the band stretch out (Saw Mill, California, Roxanne) or that energetic closer Room to Move.
Between the album with Clapton in '66 and the end of the decade, John Mayall made half a dozen better-than-interesting albums and The Turning Point was one of them, his lyrics aside perhaps.
A more than decent album to pull of the shelf, but I do wish there had been a back-to-blues album by Brian Jones at this time also.
I know what the cover could have looked like.
Even from across a busy road in London.
.
You can hear this album on Spotify here where there are three fine extra tracks, which might make you suppress a knowing smile, given what I've said about the women fixation that Mayall – a painter, who once owned a substantial collection of collectable erotic art lost in a canyon fire in LA – had.
.
There are many reviews of John Mayall albums (and an interview with him) at Elsewhere starting here.
.
Elsewhere occasionally revisits albums -- classics sometimes, but more often oddities or overlooked albums by major artists -- and you can find a number of them starting here