Graham Reid | | <1 min read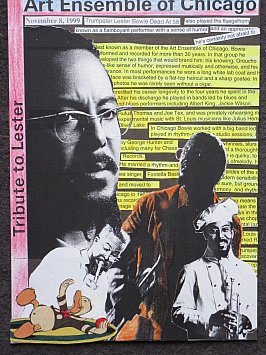 The late Lester Bowie was not just a great musician but a funny guy. Hence Donald Duck in this collage.
One of Bowie's pieces was Miles Davis Meets Donald Duck for which he blew through a straw in water to create an effect which sounded exactly like that encounter.
With his Brass Fantasy ensemble he covered Michael Jackson's Thriller and he moved beyond jazz to play on David Bowie's Black Tie White Noise album.
He'd come out of the innovative Art Ensemble of Chicago so coulkd play free jazz with confidence but also hard bop, funk, r'n'b and . . . he could sound like Miles Davis meeting Donald Duck.
This collage was used to illustrate this tribute column on Bowie's death in '99.
.
For other Art by Elsewhere go here.