Graham Reid | | 2 min read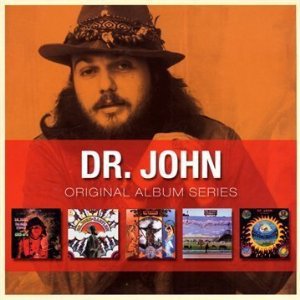 The Dr John of today -- 71 in November -- is in many ways a very different musician to the one which emerged in the late Sixties, and that's probably a good thing.
If he'd kept on styling himself as Dr John the Night Tripper and come on with his shaking stick, voodoo beads and crazy capes (in the manner of Screamin Jay Hawkins) he would have increasingly looked like a parody of himself.
The core of his piano playing has remained much the same however -- except for some regrettable diversions into duets and MOR material -- and it is the meltdown of styles that he grew up on in his hometown of New Orleans.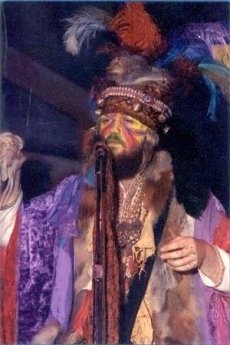 Dr John -- born Malcolm "Mac" Rebennack -- was part of the lineage that connected with Professor Longhair, the black Indian culture, spooky boogaloo and Nawlins funk, and to that he added a smattering of rock and psychedelia.
He was a showman and a musical shaman who could conjure up dark spirits and Creole blues. He put the funk in funkadelic, indelicately.
With a big band (congas, horns, guitars and backing singers) he dropped his debut album Gris-Gris on an unsuspecting world. It was a conspicuous failure in the sales charts but is one of the great albums of the rock era. It is an Essential Elsewhere album.
With its mix of funk and rock, Afro-blues and stoner soul, it is unlike most others things you have heard. And it gets bigger and more bewildering every day that popular music moves more towards the accountant's office and further from the clubs.
In the years before its release Dr John had shifted from New Orleans where he'd played in rock bands and been a producer, to Los Angeles where he became a session musician.
And then came Gris-Gris.
The album caught the ears of just enough people to allow him to go back for another album (the lesser more "political" Babylon of '69) and another (Remedies in '71). Along the way he picked up famous fans (Jagger, Clapton) and a loyal following of stoners who found his voodoo funk not too far removed from black soul and Little Feat's southern fried brains.
The Sun, Moon and Herbs -- in '71 and with stellar guests such as Clapton and members of his band, studio musicians like Bobby Keys and with Jagger, PP Arnold and Bobby Whitlock on backing vocals -- took him back to the mad genius of that debut with material like Black John the Conqueror and Zu Zu Mamou.
For his Gumbo album in '72 he started to shuck off the Night Tripper persona and revealed his pure New Orleans spirit on an album of mostly NO material by Longhair and Huey Smith alongside Iko Iko, Junko Partner, Stack O Lee and other Southern standards. It's terrific.
By this time he was bigger than a cult and his marginally more mainstream album In the Right Place -- '73 and recorded with Allen Toussaint and the Meters -- spawned two of his biggest crossover hits in the title track and the breezy Such a Night.
After that Dr John was seldom far from a spotlight but the albums became less consistent. In recent years he seems to be back on track again (albums such as 08's tribute to his hometown City That Care Forgot post-Katrina).

But the most innovative, alarming, funky and thoroughly out-there music came in those early years and now five of those albums -- Gris-Gris, Babylon, Sun Moon and Herbs, Gumbo and In the Right Place -- have been packaged up for $20. They are available at JB Hi-Fi stores here.
Essential funk from the Dr who knows what ails you, even when you don't.