Graham Reid | | 4 min read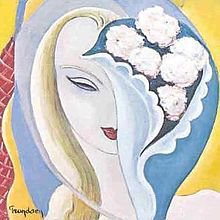 By the time Eric Clapton flew to Miami in 1970 to record what would become the Layla and Other Assorted Love Songs double album, he had spent six years in an emotional wringer: he was the acclaimed guitarist in the Yardbirds before he abruptly quit over dissatisfaction with their pop direction; took time out; joined John Mayall in his Blues Breakers for one album and was hailed in graffiti with "Eric Clapton is God" and then formed Cream with Jack Bruce and Ginger Baker.

After that it was the short-lived Blind Faith and Clapton – insecure about his gift, challenged by his friend Jimi Hendrix, in love with George Harrison's wife Pattie, and increasingly dependent on heroin – removed himself from the frontline and in '69 joined up with the US rock'n'roll soul-style revue band Delaney and Bonnie and Friends where could be almost anonymous. (Harrison did much the same.)

When that band broke up in early '70 Clapton with Memphis-born keyboard player Bobby Whitlock, drummer/pianist Jim Gordon and bassist Carl Radle – all Friends who had also been on Harrison's sessions for his All Things Must Pass album – gravitated towards each other. They played their first gig in June 1970 in London under the hastily chosen name Derek and the Dominos.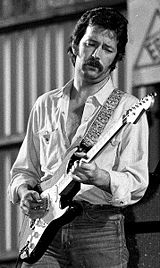 Within a few months they were recording with Tom Dowd in Miami. They were loose sessions – with Duane Allman invited by after Clapton caught the Allman Brothers Band in concert down the road.

Out of such unpromising clay they fashioned what many consider to be one of Clapton's most important albums: it put him in touch with soulful American r'n'b as much as the blues; allowed him to be collaborator rather than a leader; and the physical distance from Pattie allowed him the opportunity to pour out his feelings for her in the agonised Layla (I'm beggin' darlin' please"), which became the album's most familiar piece and one of Clapton's finest works – and included that long coda with Allman's slide over Gordon's piano.

Whitlock was a first among equals on the sessions and his vocal is a counterpoint to Clapton's (It's Too Late). He also providing the soulful organ and piano parts he doubtless picked up from his days at Stax Studios.

Tracks like Keep on Growing have a funky-country r'n'b edge and sound like the Band on speed, and on Nobody Knows You When You're Down And Out (a blues standard) Clapton confidently takes the vocal lead, as he does on Keys to the Highway.

Layla wasn't the only song imbued by his yearning for Pattie either, his own Bellbottom Blues (terrible title) contains lines like "it's all wrong, but it's alright" and "I don't want to fade away". And of course there is their version of Have You Ever Loved a Woman?

It is the loose but disciplined playing, the reach from aching blues to free-flowing jamming with Allman (as on the urgent Why Does Love Got To Be So Sad?) which made the album such a cornerstone for Clapton – although not many recognised it at the time.

It was met with indifferent reviews and poor sales, until almost 18 months later when and edited version of Layla took off as a single.

The band didn't last either: heroin and whiskey took hold; Clapton was broken by the deaths of Hendrix (just days after they recorded his Little Wing for the album) then Allman (within months) and they never finished their second album.

Layla and Other Assorted Love Songs gets the big 40th anniversary reissue/remastered treatment: a single disc version; double disc with unreleased, live and remixed material. Very little repeats what was on the 20th anniversary three-CD edition.
There are the Spector-produced B-sides Roll It Over (with Harrison) and Tell The Truth with various Dominoes recorded during Harrison's All Things Must Pass sessions; four songs from Johnny Cash's television show (including Carl Perkins' Matchbox with Perkins on rockabilly guitar); remixed tracks for the unreleased album (the guitar-work on Snake Lake Blues and their version of Willie Dixon's Evil are terrific); and two jams on Got to Get Better in a Little While (the longer version with Whitlock's vocals and keyboards overdubbed last year).

There's also a four-CD with reproduction double vinyl, hardcover book, concert tickets, art print of the cover and so on.
Layla – the album – proved Clapton wasn't God, but he was man with dark emotional depths – and one helluva guitarist despite it all.

ESSENTIAL EARLY ERIC

Blues Breakers with Eric Clapton (1966): Co-billing on an album of mostly blues standards where Clapton's fiery or soulful playing was produced loud and raw. See here for a full consideration.

Cream; Disraeli Gears (1967): Contained but not restrained by the studio this was psychedelic blues at a peak.

Cream; Wheels of Fire (1968): One album of studio material, the other of them live and notable for the thrilling 17 minute version of Willie Dixon's Spoonful.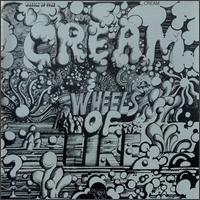 Eric Clapton; 461 Ocean Boulevard (1974): Cleaned-up, no longer spinning out long solos and covering I Shot the Sheriff. A new, relaxed Clapton.

Eric Clapton; Slowhand (1977): Either a further disappointment (if you liked Cream) or a blues/hits package if you liked Cocaine, Lay Down Sally and Wonderful Tonight.

Eric Clapton; Just One Night (1980): Double live of hits and blues, and some would say his last decent album before being adrift in the 80s.

Eric Clapton; Crossroads (1988): The cheater's guide to early Eric is this 63-song box set which takes him chronologically from the young Yardbirds to covering cruisy JJ Cale. Quite a journey. See here for a full consideration.