Graham Reid | | 1 min read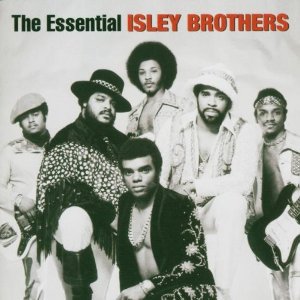 The great Isley Brothers out of Cincinnati have hardly received their due by rock and pop writers (although they were inducted into the Rock and Roll Hall of Fame in '92).
Yet they crafted some of the sassiest, slippery and and most sexy funk-rock'n'pop of their era, which was long. They first troubled the charts in '59, were dominant if not always commercially successful in the late Sixties and early Seventies and a morphing line-up was active in the Nineties. As far back as '75 they were singing "we got to fight the power that be".
It is widely known that Jimi Hendrix was in the band in the early Sixties (a track by him with them is here), and that the Beatles among others covered Twist and Shout which they had brought to mainstream popularity in '62. They were the group which sang This Old Heart of Mine (with the Funk Brothers) which Rod Stewart (again, among others) covered.
Their biggest hit was the glorious Who's That Lady ("sexy lady") in '73 which boasted a wonderful guitar part by Ernie Isley.
They were a family band and a multiple threat -- Ronnie sang, Ernie played guitar and percussion, Marvin was on bass and both Rudy and Kelly sang backing vocals. They had startd in gospel and doo-wop (excellent grounding), moved into rhythm'n'blues then soulful funk, embraced a little disco. . .
They could turn their hands to just about anything . . . as this non-chronological 34-song double disc attests.
It doesn't catch all of their best work (they label-hopped so some material would have been unavailable) but at just $9 from JB Hi-Fi stores here you can hardly argue. And it does include Twist and Shout, That Lady, the groovy Groove With You, their distinctive cover of Summer Breeze (the Seals and Croft hit), This Old Heart, Spill the Wine, Between the Sheets and Caravan of Love (the later Isley-Jasper-Isley hit).

It closes with Down Low from '96 where Ronnie and Ernie joined up with R. Kelly.
Good collection, ridiculously low price -- which is why it is this week's Bargain Buy.