Graham Reid | | 3 min read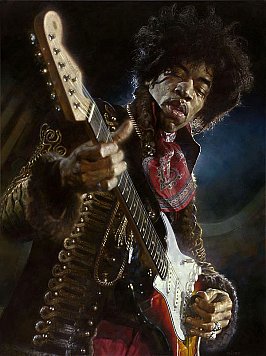 In 1964 the Isley Brothers – a doo-wop/r'n'b outfit from Cincinnati who had scored a hit with Twist and Shout – were playing a show in a baseball stadium in Bermuda. They had their own in-built support act, they simply sent their band out to warm up the crowd. But on this night there was whooping from the audience and a guy came into their dressing room and asked, "Who is that guy out there?"

Ronnie Isley says they peeked out "and there was Jimmy down on his knees biting his guitar and the crowd were just going crazy".

That Jimmy would, in three years, become Jimi Hendrix and his wild man stage antics – picked up on the road while touring the South with various bands – would startle and amaze British audiences as much as his astonishing guitar playing. But here was Hendrix, in the same year the Beatles were a pop band starring in A Hard Day's Night, being a sexy, bad-boy entertainer. No wonder Little Richard, the Isley Brothers, Ike and Tina Turner, and many other jobbing bands couldn't contain him.

The years before he arrived in England in September 66 have rarely been explored by the Hendrix industry which has pumped out literally hundreds of posthumous albums, some of doubtful authenticity or worth.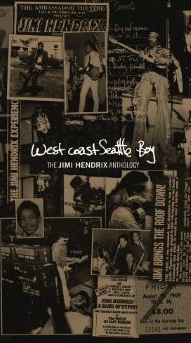 But the new 4CD/DVD box set West Coast Seattle Boy: The Jimi Hendrix Anthology -- authorised by Experience Hendrix – opens with a whole disc of pre-fame Jimi.
With the Isleys there is wicked rock'n'soul playing on Testify, and his distinctively fluid sound across all of Move Over and Let Me Dance . . . and curiously Have You Ever Been Disappointed contains the line "all the lonely people, where do we all come from?" the year before Eleanor Rigby.
Hendrix is also here with Don Conway (who knew Jimi was guitarist on the r'n'b chart-topper Mercy, Mercy in 64 which the Stones later covered faithfully?), Little Richard (a minor self-referencing piece Dancing All Around the World), the little known soul belter Rosa Lee Brook (who Jimi was introduced to by fellow guitarist Arthur Lee in Lee's pre-Love days) and others.
Unusually there is nothing of Hendrix with Curtis Knight (see here).
But almost everywhere in these constraining r'n'b and soul songs you hear that fiery, barely contained genius waiting to bust out.
My Girl with the Icemen finds him exploring guitar sounds that would become May This Be Love and Little Wing.

And the next three discs – 41 previously unreleased songs or alternate recordings of classics and album tracks, seven live tracks among them – show how that fire burned phosphorescent and, away from the constraints of American r'n'b and soul, burst out into counterculture psychedelic blues, free form rock and gentle ballads.

Early on the first disc however are Experience alternate takes not dissimilar to the released versions (Fire, Can You Hear Me, Love or Confusion etc), a limp treatment of Dylan's Tears of Rage (with ), another version of Mr Bad Luck which appeared on the recent Valleys of Neptune (the working drawing for the more political Someone's House is Burning Down).

Things pick up from the middle with intimate versions of 1983 and Long Hot Summer Night as Hendrix went back to the blues (My Friend) or became more experimental: there is a beautifully fragile version of Angel, a trippy seven minute New Rising Sun, some exciting working drawing (Messenger, Untitled Basic Track) and studio jams (and a couple of duffers), some live material . . .
And just as Hendrix's life became muddied, frustrating and more beholding to lawyers than his muse, you can also hear pieces here on the final disc in which that anger is channeled into music, or the man sounds weary and going through the motions.
The collection closes with the acoustic, reflective Suddenly November Morning, the effect is like hearing Bob Marley's Redemption Song at the end of Uprising. It sounds like a weary farewell.

Much of this will be for collectors but the overview offered is impressive in scope and the music comes with an excellent 90 minute DVD bio-doco Jimi Hendrix: Voodoo Child by Bob Smeaton (who did the Beatles Anthology and clips on the Beatles remastered discs last year) with Jimi interviews, sometimes thrilling live performances, previously unseen footage and photos, and Jimi's own words delivered by Bootsy Collins.

Okay, it's a lot of Jimi Hendrix. There's a single CD version (none of the pre-fame tracks) with the Smeaton doco, but it seems paltry compared to the big picture of the box set.

In a world awash with Hendrix, West Coast Seattle Boy might seem an indulgence and a marketing exercise. And to some extent it is both.
But that first disc is revelatory and after that it is a journey through genius -- sometimes genius on autopilot – and a man whose guitar was an extension of himself and his personality.
"It's not an act, it's a state of being," he said of his performances.
Ernie Isley remembered Hendrix in 64 attached to his instrument: "He played it all the time . . . like the sun is shining, Jimmy's playing his guitar."

Here are shaft of brilliant sunshine from Jimi Hendrix, sometimes surrounded by very dark clouds.
For another alternative view of Jimi Hendrix go here.