Graham Reid | | <1 min read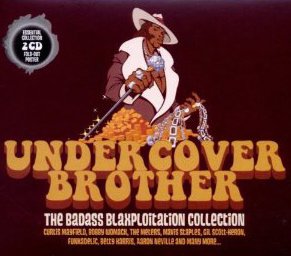 One of the funniest films of the past few years has been Black Dynamite, a parody of blaxploitation flicks which is so astute that you could be forgiven for thinking it was straight out of '73 (see clip below).
Blaxploitation films are serious fun, and the pleasure of even the most C-grade in the genre can often be the music, a kind of railed up funk with stuttering wah-wah pedal guitar, falsetto vocals, a sense of menace and street smart toughness and sometimes a few romantic strings for added effect.
Great percussion too.
The Man can't kill this music, brother.
This terrific double disc compilation (with a fold-out poster of the cover character) pulls together some of the biggest and best names in classic Seventies tracks kicking off with Curtis Mayfield's Superfly (the single edit), Bobby Womack's Harlem Clavinette and Aaron Neville's Hercules.

That's quite the trifecta, but here too are Funkadelic, Mavis Staples, Betty Harris, the Meters (with Cissy Strut), more from Mayfield, Womack and Staples, Lee Dorsey, Allen Toussaint, Joe Tex, Pee Wee Ellis . . .
This is a boil-up of funk and street strut and at just $15 at JB Hi-Fi stores here, that qualifies this as a terrific Bargain Buy.