Graham Reid | | 1 min read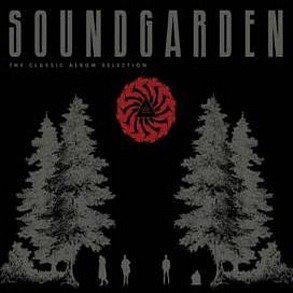 In the same series which has produced the excellent value and beautifully presented Elsewhere-recommended sets of Thin Lizzy, the Cure, Motorhead, Elton John and others (five discs in gatefold sleeves in a solid cardboard box) comes this thunderous collection by one of the best out of Seattle during the grunge years.
Unashamedly owing debts to Led Zeppelin and metal heroes like Black Sabbath, Soundgarden arc-welded metal onto rowdy angst and an outsider punk attitude, delivered it turned up to 11 and shook the foundations of the grunge movement when they signed to a major label after some time on the indie SST.
This box set picks up the story from there when they went big with Louder Than Love and Badmotorfinger (the latter including the hits Rusty Cage, Outshined and Jesus Christ Pose).
The story continues through the early to mid Nineties on the mega-selling Superunknown (Black Hole Sun, Spoonman) and Down on the Upside, and this collection is rounded out by Live on 1-5 which is essentially all the hits, great album tracks, the Beatles' Helter Skelter and the Stooges' Search and Destroy recorded widescreen on their '96 US tour but for an album which wasn't officially released until 2011.

Music with a wallop, but not on your wallet.
Point to note though: this set is currently marked at just $20 from JB Hi-Fi stores (post free in New Zealand) but the deal ends September 11 so you might want to move fast. Go here to order on-line direct.