Graham Reid | | 2 min read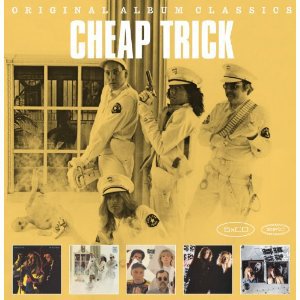 By the time Cheap Trick -- who played a note-perfect Daytripper live -- got to work with Beatles' producer George Martin in 1980, they were starting to run out of puff -- and songs.
In theory Martin should have been the ideal producer for this band which married power pop with hard rock parody and sly humour (and a few of whom had worked on John Lennon's sessions for his final album Double Fantasy). But the album All Shook Up failed to ignite in the way their previous albums had.
Coming after their massive Dream Police, it had to be counted as a disappointment. The single barely made the US top 50, the album not even top 20. Dream Police had gone platinum and to #6 on the US charts -- and #2 in New Zealand because it arrived exactly as they played and brought the Auckland Town Hall to its feet in what I consider one of the best rock shows I've ever seen.
From there on, there were diminishing returns from Cheap Trick (bassist Tom Petersson quit) but they got back on track and took out the decade with decent albums (and Petersson back) although never quite found their audience again.
And who was their audience?
At the time of their first -- and probably essential -- albums Cheap TRick and In Colour (both '77) and Heaven Tonight ('78) it was possibly slightly jaded rock critics who loved their smart blend of power pop and stadium-sized metal, and young fans attracted to the pretty boys of singer Robin Zander and Peterson (who were always on the front of the albums while mastermind guitarist/writer Rick Nielsen and the moustachioed drummer with the cigarette permanently attached Bun E. Carlos were on the back).
Everything came together however on their Live at Budokan album which is thrilling power pop even today: it was an in-built intro the band from the double-entendre opener "Hello there ladies and gentlemen . . . would you like to a number with me?" through classic rock'n'roll (Ain't That a Shame) to their witty Surrender and Goodnight ("goodnight now ladies and gentlemen . . . now it's time to go"), with Clock Strikes Ten as a kind of encore.
That opened the door for mainstream attention which they grabbed with the smoothly polished Dream Police.
Budokan and Dream Police are first out of the gate on this five CD collection (the latter with some live racks added) and then it cherry-picks through the decade by neatly omitting the album with George Martin but picking up a few of their better ones, the admittedly patchy One on One, Lap of Luxury (which had their return hit The Flame) and Busted (1990) which included the rocking title track but also a song by hit-writing machine Dianne Warren (Wherever Would I Be) and If You Need Me co-written with Mick Jones of Foreigner.
Those two songs show just how far they had moved from parodying hard rock to simply doing it. And Back 'n' Blue which opens the album might be a clever titular and sonic reference to the Stones -- real Keith chords -- but it lacks the wit of their earlier work.

Their first three albums and Live at Budokan should be in any serious pop-rock collection (despite each of the studio albums having the odd duff song) and they are available in a similar Original Album Classic set to this one.
But this budget priced collection -- which nails down two pretty terrific albums right at the start and contains surprises towards the end -- is only $20 from JB Hi-Fi stores here.
And that makes the crafted power pop-cum-glam metal of Cheap Trick this week's Bargain Buy.