Graham Reid | | 5 min read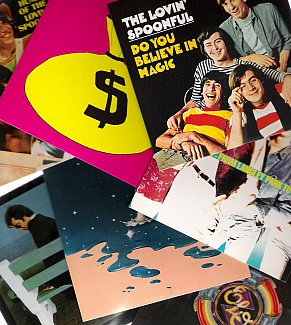 You can't help notice how cheap it is to get into popular music these days as record companies repackage and recycle albums in small and economic sets.
The advantage of these budget-price sets are many: You get a better overview of the artist concerned; you can pick up classic albums dirt cheap (and get another couple thrown in); song-per-song they work out cheaper than downloading through legitimate channels; and many of these albums were created at a time when the album was actually the important format for the artists, not disposable singles.
And many of the collections nelow come with extra tracks like demos and outtakes.
So, with Sony Music packaging up five CD sets for just $20 at JB Hi-Fi stores (here), these are some starting points to fill your shelves and ears.

Real Bargain Buys.
This week we focus on the backbone of our music world . . .pop music
The Lovin' Spoonful; Do You Believe in Magic?/Daydream/Hums of the Lovin' Spoonful/Everything Playing/Revelation; Revolution '69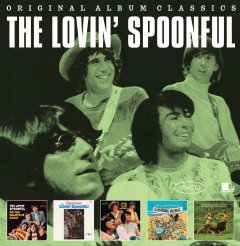 Out of the New York boho-folk scene, the Spoonful delivered a rare blend of folk, pop, a little blues and swamp-pop as well as jugband music and a genuine affection for country music (their hit Nashville Cats).
They also wrote a remarkable number of hits -- the summery vibes of Do You Believe in Magic and Daydream, the more troubing Did You Ever Have to Make Up Your Mind and Younger Girl, delightful songs like Rain on the Roof and Nashville Cats, the gritty Sumer in the City -- which would pack out any decent greatest hits selelction. But it is also the album tracks like You Didn't Have to Be So Nice, Darlin' Companion and others which give you the full spectrum of their talents.
The Canadian Zal Yanovsky was the wild card and mugged shamelessly when they appeared on television -- he looks stoned, so no surprise he was busted in '67 and chose to leave the band -- and although John Sebastian was an excellent writer the quality does diminish on the post-Zal album Everything Playing . . . and on the final album even Sebastian was gone.
But across those first three you'll find impossibly addictive harmonies and chiming guitars, classic songs by great songwriters (Darlin' Be Home Soon which Joe Cocker made famous unfortunately isn't in this set), pop economy and believable magic in three minute songs.
Summer music when there's rain on the roof.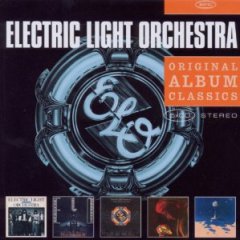 Electric Light Orchestra; On the Third Day/Face the Music/A New World Record/Discovery/Time.
Jeff Lynne -- prior to ELO in the excellent British Beat-era band the Move and latterly a Traveling Wilbury -- has recently re-recorded his hits but the originals as on these albums are where it's at.
He took the Beatles' Sgt Peppers/ Magical Mystery Tour period as a starting point for radio-directed and clever pop, with orchestration. The man who made cellos in rock fashionable?
This starts with the third ELO album -- the first without Move protoge Roy Wood and featuring Marc Bolan playing distinctive guitar on a few tracks -- and you can hear the Beatles infuence everywhere, notably that of Harrison (also a Wilbury). Then the set rolls out the hits on subsequent albumns (Evil Woman, Strange magic, Telephone Line, Livin' Thing etc)
ELO were never the coolest band on the planet but they certainly damaged the charts and these albums still stand as a particular peak in orchestrated pop-rock.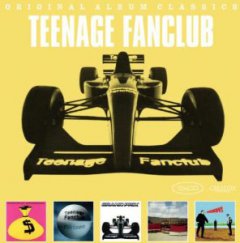 Teenage Fanclub; Bandwagonesque/Thirteen/Grand Prix/Songs From Northern Britain/Howdy!
The great lost band of Britpop? No, they did well enough . . . but never well enough given the quality of their songs, delivery, passion for Big Star (whose lovely song is the title of the sxecond in this set) and power pop, and consistency.
Skipping their first two albums (no matter, they are considerably less important) this excellent collection starts with their wonderful alt.pop Bandwagonesque, their debut for Creation Records, which was one of the great albums of '91.
For a band from Scotland they seemed beautifully tned in to American music (specifically West Coast pop and also that mainlne from Big Star power pop, which began with the Beatles).
Grand Prix is widely considered one of the finest British pop albums of the past few decades, and only a fool would deny the strength of Songs From Northern Britain.
Take a chance on this (five albms foir $20? Gee) and you won't be disappointed. Music that was built to last.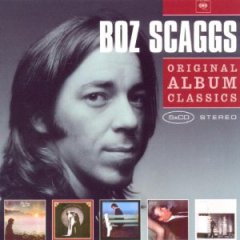 Boz Scaggs: Moments/Slow Dancer/Silk Degrees/Down Two Then Left/Middle Man
This skips a few albums but actually captures the essence of the slinky and effortlessly tuneful Scaggs style perfectly.
Formerly a fellow traveller with Steve Miller, when he stepped out solo his polsihed and distinctive soul voice shone through and the albums Silk Degrees and Down Two Then Left epitomised a kind of smart and sophisticated Seventies blue-eyed soul sound, the former a previous Bargain Buy and essayed in more detail here.
Two classic albums . . . and the two albums (My Time recorded at Muscle Shoals) which got him there.
Cruisey music, without the pejorative meaning that has description has come to acquire.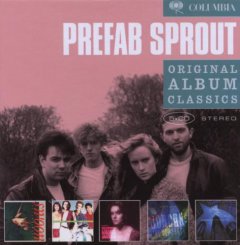 Prefab Sprout: Swoon/From Langley Park to Memphis/Protest Songs/Jordan the Comeback/Andromeda Heights
Pity this skips their cornerstone Steve McQueen album -- which came between those first two --and you do need to pick that up for the full picture (there's an excellent expanded edition).
By leaving that out the picture stutters between their classy if dark debut and their wonderful Langley/Memphis with its beautifully downbeat Cars and Girls (a poke at Springsteen's obsessions at the time, "some things hurt more than cars and girls") and songs which were as melodically smart as Culture Club. And that's saying something.
Protest Songs here is their most interesting on lyrical levels: as smoothly presented as their other albums, it however jabs as our obsession with celebrity and how we elevate them (Diana, about the Princess), the withering of a relationship (Life of Surprises), a sad reflection on Dublin and Irish people embedded in self-mythologising, illicit love on Talking Scarlet (and here other view) . .
Yes, it does MOR production-wise by Andromeda Heights (biut ther is trouble in paradisze, check Anne MArie and what was that boy thinking?)
The Sprouts' Paddy McAloon, on the evidence of this collection -- with out even factoring in Steve McQueen -- was easily the equal of Morrissey in the songwriting stakes. Just check Horsechmes on Protest Songs.
If they were just a passing band for you, then pick this up and prepare to be surprised.
AND
Elsewhere has previously pointed to this Original Album Classic series (reserving the right to say not every album in these sets is a "classic").
But if you care to check here you wil see how we've critically introduced Bargain Buy collections by Elvis Presley, New Zealand artists Che Fu, Dave Dobbyn and Dragon, a set by Johnny Cash, one by the exceptional Harry Nilsson, cornerstone Patti Smith . . . and Lou Reed ??