Graham Reid | | 1 min read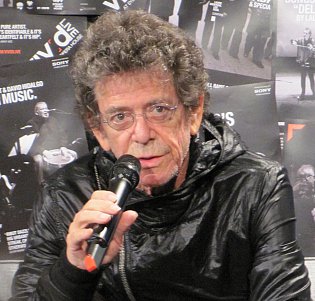 How strange to live in a world without Lou Reed. Not that we chatted often -- indeed never -- but it was always good to know that Lou was out there somewhere being irritable about something.
In the days to come we will doubtless hear how, behind it all, he was a warm, caring, sensitive and gentle soul. And he doubtless was.
But Elsewhere's sole encounter with him seemed typical of his relationship with the wider world beyond a few intimates where his real self perhaps shone. It was in Sydney a few years back and he bluntly corrected me at a press conference when I directed a question to his wife Laurie Anderson. (I wasn't wrong in fact, but that's neither here nor there).
That anecdote, with a punchline worth reading on to, is here.
But Lou is gone at 71 -- which seems young for someone who really looked after himself through tai chi etc, but also remarkably old for someone who spent a couple of decades not looking after himself at all.
Already the obituaries are talking of those influential years with Velvet Underground and rightly so. As Brian Eno once observed, "I knew that they were going to be one of the most interesting groups and that there would be a time when it wouldn't be the Beatles up there and then all these other groups down there.
"It would be a question of attempting to assess the relative values of the Beatles and the Velvet Underground as equals".
VU have long had their place in the pantheon of music assured (and you can get their first two albums as a Bargain Buy if you look around, see here).
But Reed's solo career -- so long it would invariably be uneven -- is being less discussed in obits, aside from those early years when he took that walk on the wild side.
So simply as a reader servive, Elsewhere throws the spotlight on the bargain buy reissues of many of Reed's solo albums in the Original Classic Album Series here and here. There is also a third set in that series which includes his self-titled album, Transformer, Berlin, Sally Can't Dance and Coney Island Baby.
So if you forego coffees and a bottle of wine for a week or two you can pick up 15 of Reed's solo albums, no trouble. There is a lot of listening across those records.
Lou Reed has been extensively covered at Elsewhere (you could start here) and so has Velvet Underground (here).
He may have been pugnacious, belligerent and never in doubt about his own genius, but he could also be funny, droll and a genius.
The world is that little bit more empty and poorer without him.