Graham Reid | | 1 min read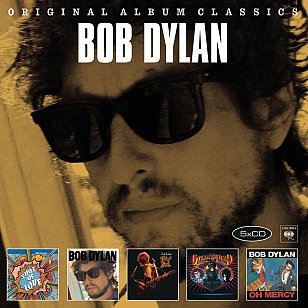 Every few years or so, some writer or magazine kicks off the idea that Bob Dylan's horrible Eighties need reconsidering.
So the search is on for lost gems but, just like gold nuggets in a mountain, they are hard to chivvy out.
This five CD set covers his mid and late Eighties -- skipping quite a few albums in the middle.
And while we can simply say the Dylan and the Dead album found each party absent (a few of Dylan great hits done serious disservice) and Real Live is either excellent or awful depending on who you speak to, the other albums here each have their own merits.
Shot of Love ('81) was his final "Christian" album and although it is pretty preachy in places it does contain the fine Every Grain of Sand and In the Summertime, and (on this CD edition) the non-album track The Groom's Still Waiting at the Altar. If any reconsideration of Dylan's Eighties is going to take place this album does come up rather better than how it was received at the time.
Infidels (produced by Mark Knopfler) which followed was kicked into life by the single Jokerman which was either one of his greatest songs or him just game-playing with lyrics. Elsewhere he comes to the defense of Israel (Neighbourhood Bully) and laments internationalism, for-profit bottomline business practices and the end of organised labour (Union Sundown). Both are slightly hectoring but the latter sounds even more timely today.
Don't Fall Apart on Me Tonight is still a fine song of love and need.
And the other album here comes from the end of the decade --Oh Mercy (late '89) -- and signaled his resurrection. Lots of great songs in the voice that was to become his signature in the following decade: Everything is Broken, Ring Them Bells, Man in a Long Black Coat, Most of the Time, Disease of Conceit . . .
After a wobbly decade, Dylan was back on something close to top form and -- aside from the truly awful Under the Red Sky of the following year -- he went back to roots for two albums (Good As I Been To You, World Gone Wrong) before that extraordinary late career revival which began with Time Out of Mind ('97)
So here are five albums, two poor, two worth investigating and one essential from Dylan's Eighties.

At just $20 for the lot at JB HiFi stores here that's still a pretty good deal. Which makes this our Bargain Buy.
And let's here the debate begin: Dylan in the Eighties, better than we thought at the time?
Ho ho ho.
(For extensive coverage of all aspects of Dylan's career, including his movies, start here)
.