Graham Reid | | 1 min read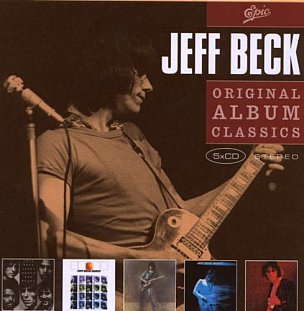 Although Elsewhere stands by its belief that Jeff Beck has never made a truly great album, we'd also make the case for his Blow By Blow of '75 as being among his most truly satisfying, enjoyable and interesting.
In fact we made that album one of our Essential Elsewhere albums some while back (see here) . . . . and now it appears as th centrepiece in budget price five-CD collection.
Also here is the follow-up Wired where he teamed up with synth player Jan Hammer (he of the theme to Miami Vice, see here) for the first time and that one kicks in with the stomping Led Boots which is a nod to his old Yardbirds sparring partner/Led Zeppelin founder Jimmy Page, and later includes an interpretation of Charles Mingus' salute to Lester Young, Goodbye Pork Pie Hat.
The Beck/Hammer live album follows that (bombastic but interesting versions of some of the material from the previous two).
Beck has rarely had consistent bands but the first two CDs here -- Rough and Ready, Jeff Beck Group -- found him with singer Bobby Tench, pianist Max Middleton and drummer Cozy Powell who were around for quite a few years. Although he formed Beck, Bogart and Appice in the years between the Jeff Beck Group album and Blow by Blow.
Beck's career has hit a real peak in recent years and his performances have been effortless showcases of his often wayward talent.
Beck is interviewed at Elsewhere and his recent albums reviewed (start here) and also an earlier Beck collection in these budget price sets is considered here.

He may be an erratic album artist but this set does include one of his very best and a couple of albums which came very close.
So for just $20 at JB HiFi stores here, we're happy to call this a Bargain Buy.