Graham Reid | | 4 min read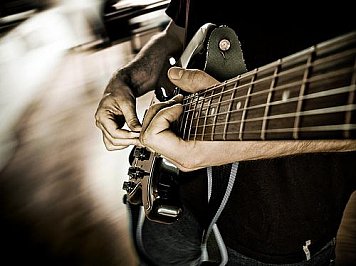 Here's a simple question with an unusual answer.
Given all those Bargain Buy album sets in the Sony "Original Album CLassics" series -- everyone from Simon and Garfunkel, to Elvis, Billy Joel and Santana . . . which set has been selling the most in New Zealand through JB Hi-Fi stores?
It is one of the most unexpected answers because the guy never seemed to have much a profile and even when he died in '95 there hardly seemed great tributes in anything other than guitar player magazines and a few selected rock mags.
The one who is outselling everyone is the late Rory Gallagher, the Irish guitarist who traveled the world in a plaid shirt and jeans, did nothing to grab headlines, and always managed to fill halls.
Perhaps the reason his collection is doing so wel is two-fold: his albums haven't been readily available for years, and the CDs in this wee box include some of his finest work of the Seventies (Deuce, Calling Card, Top Priority), a good one from the Eighties (Jinx) and the excellent if rather dark Fresh Evidence from '90 which was to be his last studio album.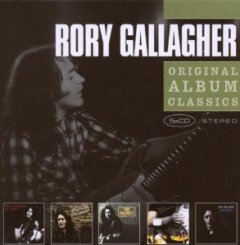 And most of these come with bonus tracks.
Elsewhere has regularly championed the case of Gallagher whose workmanlike demeanor and journeyman attitude belied a real talent, the equal of his peers like Clapton, Jeff Beck and so on.
They erected a statue to him in Ireland.
And people are buying this collection in truckloads.
So maybe it is time Elsewhere's Bargain Buy posting took a look at those collections of guys with guitars, a column we could also subtitle "blues had a baby" because most of these artists have some grounding in the blues . . . but either nudged it towards rock, or brought in some Southern country flavours.
Or just burned up ears with powerhouse playing.
Here goes nothin' . . .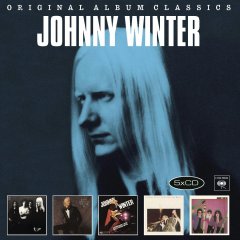 Johnny Winter: Johnny Winter And/John Dawson Winter III/Captured Live/Nothin' But the Blues/Raisin' Cain
We have previously shone a spotlight on another collection in this series by the albino Texan (here) and this one sort of fills in a loose chronology of the Seventies. Here are original blues-driven rock and pop, head-down boogie and a wide swathe of covers which includes a little heard John Lennon song Rock and Roll People (from Lennon's Menlove Ave posthumous collection) on the JDWinter III and again on Captured Live! (where he also delivers a six minute version of It's All Over Now and a 10 minute-plus Highway 61).
Winter -- still out there and working at almost 70 -- is, like Gallagher, a journeyman deserving better recognition.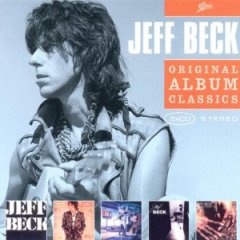 Jeff Beck: There and Back/Flash/Jeff Beck's Guitar Shop/Who Else!/You Had It Coming
Although in the past decade this great guitarist has reached some real career peaks, there's no polite way of pointing out that his discography is punctuated by albums which don't really hit peaks. Perhaps his best is the George Martin-produced Blow by Blow of '75 . . . but to be fair also, both Flash (which featured former bandmate Rod Stewart on the chart-damaging People Get Ready) and Guitar Shop here won him Grammys.
Flash -- with keyboard player Jan Hammer and drummer Carmine Appice among others -- was very much a vocal album with singer Jimmy Hall on five of the nine tracks, but he's a colourless singer so if it's Beck's fingerwork you want to hear this is one which only intermittently delievrs.
Guitar Shop however -- a stripped back but noisy trio with drummer Terry Bozzio and keyboard player Tony Hymas -- adequately takes care of that sort of business. The other albums are solid if only occasionally impressive, but Who Else! stands up better than most in his back-catalogue because he hooked into synths and electronica in a serious way . . . and it is sitting there waiting for DJs and samplers.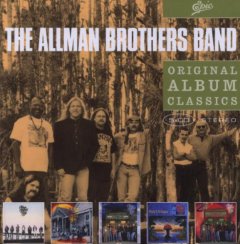 The Allman Brothers Band: Seven Turns/Shades of Two Worlds/An Evening with the Allman Brothers Band, First Set/Where It All Began/An Evening with the Allman Brothers Band, Second Set
By the time of these albums this band had hit early heights (their much recommended At Fillmore East live album), seen off two members through deaths (guitarists Duane Allman and Dicky Betts within 13 months of each other, both in motorcycle accidents), keyboard player Gregg Allman's descent in to heroin and then a marriage to Cher, various line-up changes, some indifferent albums and finally, at the end of the Eighties they broke up.
These albums pick up the story after their re-formation (with guitarist Warren Hayes alongside Dickey Betts) but before hot young Derek Trucks joined and further elevated their profile.
So a middle period when for studio albums they appeared to be aiming for economy and more mainstream acceptance, which makes the two live albums here -- recorded in various places so the titles are misleading -- the most interesting because the players really stretch out.
Those dual guitar lines always set this band apart (no matter who was playing them, although purists rightly default to the Duane/Dickey era) but Gregg's keyboards -- and sometimes his Southern soul vocals -- are worth catching up with.

So there is a swag of plank-spankers for your consideration. And all these five-disc sets are just $20 at JB Hi-Fi stores here.
That makes each a Bargain Buy.
Rory Gallagher, though. Gee, who knew?