Graham Reid | | 1 min read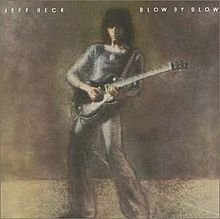 Even the guitarist's biggest fans concede Jeff Beck rarely makes a truly satisfying album, but this -- the seventh under his own name -- was the exception.
In 1968 after his stint in the Yardbirds came to a natural end, he formed what in retrospect was a supergroup. It included singer Rod Stewart, bassist Ronnie Wood, and journeyman drummer Mick Waller, plus guests Jimmy Page and John Paul Jones (soon to form Led Zeppelin), Who drummer Keith Moon and others.
It was an enormously promising start (albeit a bit flawed) and the line-up largely held for the rather short (30 minutes) but fairly heavy Beck-Ola the following year. However internal friction saw Stewart and Wood quit (for the Faces) and Beck -- pretty much the story of his career -- pulling together another line-up for a couple of less than satisfactory albums, still as The Jeff Beck Group.
After a sojourn as Beck, Bogert and Appice with former Vanilla Fudge members Tim Bogert and drummer Carmine Appice (on whom Animal in The Muppets is modelled), Beck quit and was once again stateless and directionless.
It seemed that the early potential was dissipating, but into the scene stepped former Beatles producer George Martin whom Beck brought in for an all-instrumental album.
With a tight band, arrangements by Martin, and some discreet guests (Stevie Wonder on a tribute to Thelonious Monk entitled Thelonius [sic], Beck delivered the first truly satisfying album under his own name.
He had a selection of classy material which included a fluid treatment of the Beatles' She's a Woman, a gorgeously weeping version of Wonder's Cause We've Ended as Lovers dedicated to Roy Buchanan, the knuckle-tight Air Blower and highway race of Scatterbrain.
Beck came through with an object lesson in guitar craft but also material which is tuneful, interesting and never just plank-spank wank.
Somewhere between jazz and rock, but always aiming for economic melodies, Blow by Blow remains a career high point which Robert Christgau dismissed calling Beck "a technician and nothing more".
Which just goes to show some crtics actually don't have a soul. This album does.

These Essential Elsewhere pages deliberately point to albums which you might not have thought of, or have even heard . . .
But they might just open a door into a new kind of music, or an artist you didn't know of. Or someone you may have thought was just plain boring.
But here is the way into a new/interesting/different music . . .
Jump in.
The deep end won't be out of your depth . . .