Graham Reid | | 1 min read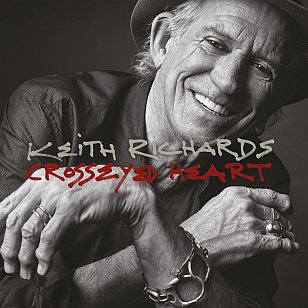 Here's a question for you to ponder this week. Should this long overdue Keith Richards solo album make it into the Best of Elsewhere list which will appear shortly?
We had our say about it in depth here, but just to reiterate we found it pretty good but hardly essential.
There are too many songs and a few of them rather indifferent.
But when it is good it is very, very good.
You just wish he'd had an editor.
If you can't pass an opinion because you haven't heard it then we have some excellent news for you.
Crosseyed Heart is just one of the albums in a two-for$20 deal at JB HiFi stores here . . . and that means for just $10 you can consider its merits.

We think that's a good deal and look forward to your opinion of it when we invite readers's submissions for your choices of the best albums you've heard this year.
You are spoiled for choice for your other pick of the crop at JB too to complete your $20: Taylor Swift's 1989, Dr Dre's Compton, Mark Knopfler's Tracker, Amy Winehouse's Back to Black . . .
Also you might like to look back at Keith Richards at Elsewhere, we have interviews with the man, an obituary (premature we know, but have a look, there was a reason) and more . . . The Rolling Stones get their own separate pages.