Graham Reid | | 1 min read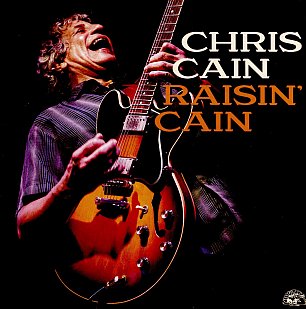 As we've previously noted, to some extent the Alligator label – which recently celebrated its 50thanniversary – picked up the legacy of Chicago's Chess Records, albeit with the hard blues sound wound up to 11.
Alligator's Bruce Iglauer was a great spotter of talent . . . but of course in recent decades the label's reputation and roster (Joe Louis Walker, Tinsley Ellis, Shemekia Copeland, hot new contenders Kingfish and Selwyn Birchwood etc) means artists now come to him.
At 65, with a dozen albums behind him and old enough to have seen Hendrix in performance, Chris Cain out of California can't be considered a "new" artist but this is his debut for Alligator and he fits right in on the roster.
Cain may be familiar to New Zealand blues audiences: he came here in 2017 to play (and work with music students) and came back with his Blues Allstars in 2019.
A year ago he released the album King of the Blues recorded with the Rodger Fox Big Band.
This album – with his band and a horn section – finds Cain in the typically leather-lung and tough guitar blues idiom with his mission statement-cum-autobiography on Born to Play ("We saw BB King and Ray Charles every time they came to play").
This isn't all the trickle-down of the Kings (BB and Albert) because on I Don't Know Exactly What's Wrong With My Baby – which includes a smart and warm Fender Rhodes part by Greg Rahn, a MVP here – Cain sets things up with a passage somewhere between Santana and Al Di Meola.
And on Space Force right at the end he gets wah-wah funky in the manner of mid-period Stevie Wonder.
But yep, there are some hard-headed women here (Hush Money, Won't Have a Problem When I'm Gone, I Believe I Got Off Cheap), money worries (Too Many Problems), this world of struggle (Down on the Ground) and so on.
The standard blues topics ticked in the boxes . . . but Cain – who has been nominated for any number of blues awards and was once considered by Joe Bonamassa to be his favourite guitarist – pulls them all off by force of vocal personality and with a band which drives these 12 originals home behind him.
.

This album is available from Southbound Records in Auckland.
.
.