Graham Reid | | 12 min read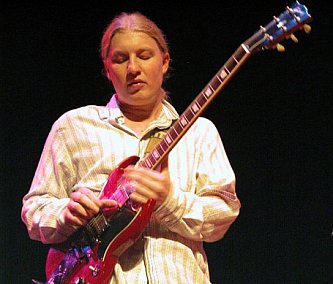 For someone yet to hit 30, the Jacksonville, Florida-based singer-guitarist Derek Trucks has achieved a lot. But then, he was almost born to it. His uncle is drummer Butch Trucks of the Allman Brothers Band; he was named after Eric Clapton's pseudonym in Derek and the Dominos; and these days he is married to acclaimed blues singer Susan Tedeschi.
Those factors alone don't guarantee anything in the music business, but Trucks has got to the top -- his recent album Already Free debuted at number one the US blues chart, number four on the rock charts and 19 on the main chart last month -- on the back of his own exceptional talent.
Something of a child prodigy, he started sitting in with the Allman Brothers when he was 10 and became a full member when he was 19. He'd formed his own band at 15 and played with Bob Dylan at that time; in 2006 got a call from Eric Clapton who invited him to join himself and JJ Cale on sessions which became their Road to Escondido album, and he made the cover of Rolling Stone in their 100 Top Guitarists of All Time issue in 2007. He was the youngest there.
In addition to appearing on four albums by the Allman Brothers, he has recorded with Gregg Allman on a solo album, with Bela Fleck and the Flecktones, Buddy Guy, David Sanborn, Elvin Bishop, Tedeschi . . . And he has toured with Clapton, Carlos Santana . . .
A master slide guitarist, Trucks is a direct inheritor of the tradition which runs through Robert Johnson, Elmore James, Duane Allman, Lowell George, Bonnie Raitt and Ry Cooder.
At one point Trucks was playing in four separate bands, and John Mayer says Truck's signature style is "making the guitar sound like a female singer from the Fifties or Sixties, just belting out".
But there is more: he also plays sarod (an Indian instrument) and dobro, has investigated world music (his last album Songlines featured a piece written by the late Sufi singer Nusrat Fateh Ali Khan),he has studied the music of jazz giants John Coltrane and Sun Ra . . .
And so much more. Oh, there's a Grammy nomination somewhere in there too.
Not even 30, but let's allow the very polite and personable Derek Trucks speak for himself . . .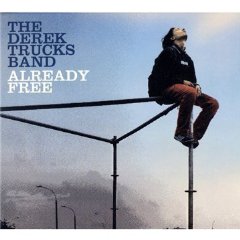 So Derek, aside from doing interviews about Already Free, are you touring also?
We're on the road right now doing some support behind the record but the last few days have been radio interviews with the full band playing in studios which has been fun. But this has been a change of pace for us because although we've done records in the past this is the one that has been accepted so early on.
Why do you think people are getting behind this album in a way they might not have got behind Songlines?
I think a lot of it is just timing.. We've been on the road a long time as a band and of course I've been out a long time personally. And between Songlines and now a lot has happened: there was the Clapton tour, there was mainstream press about me here and there.
You just have to keep plugging away until a window opens and when it does you have to be prepared to jump through it. All the work until this point is finally lining up and I feel this album is the most personal as a group and our most mature record. We've explored a lot of different things on other records but on this one I feel there is a real cohesive band sound.
Songlines sketched out a lot of diverse territory, but Already Free pulls it together in a secure and solid place.

Yes, and I think the maturing as musicians and as a band in the studio has happened. The other records were just snapshots in time and there are times as a musician you just want to explore and be as schizophrenic musically as you want to be. Then there are other times when you distil down to a sound that is your own. This album is a new chapter for us.
And me and my wife built a studio together behind our home and that was a huge part of it too, creating a space where we could really take our time and do it the way we wanted. We travel so much and have two young kids so it's also really nice to wake up with your wife then drive your kids to school and then go to the studio with musicians you are really close to. I think that makes it a very relaxed and comfortable record.
I imagine it must be bewildering for your kids to be driven to school having spent much of their life on the road.
Yeah, that true. My kids are constantly surrounded by family like my mum and dad and brother, but when me and my wife get home together I notice they sleep longer and are more relaxed. Taking them to school was fascinating because sometimes on the road the schedule is upside down, up until 4.30am or 5am.
Let me ask you about your schooling, because you were mostly on the road as I understand it.
Up until the 10th grade I was just going to local public school but I'd be away weekends and maybe miss a few days here and there for certain gigs. For the most part it was a balancing act and for the last two years I was home-schooled because at that point it was really starting to take off.
You mentioned family before and it's impossible to talk to you without mentioning family, but I've noticed you have been quoted going past the association with your uncle Butch but crediting your parents who were very formative musically.
What they brought was their respect and their ears. They were really passionate about music and when I heard my dad talking about seeing Duane Allman live, or seeing BB King just playing one note and laying the crowd out, or crying when he heard Ray Charles sing . . . Seeing your parents moved by music was very formative. Going to a great concert was like church for my dad.
The reverence for the art form and respect for the musicianship was important. My father has a very low tolerance for bullshit when it comes to music, that really rubbed off on me too. If he thought something wasn't legit there was no wriggle room.
You were playing from such an early age, did you start before you were old enough to know any fear or nervousness?
There was a little stage-fright in the beginning because I'm kind of a reserved personality to begin with, but as far fear of jumping on stage with people, probably not. Had I known better about playing with certain musicians, I didn't think about it which was probably a positive. And when you are 9 or 10 nothing seems impossible, you just go for it.
Also attempting John Coltrane covers and trying to scale those mountains, if I'd maybe started later in life that would have been more daunting.
The fact you explored jazz and Indian or Pakistani music -- aside from the improvisational qualities in both -- does seem slightly unusual for a blues musician. Where does that come from?
I was lucky to run into the right musicians at the right time and I was playing with this band called Colonel Bruce Hampton and the Aquarium Rescue Unit. I was maybe 12 or 13 when I first played with them and I remember that first show I saw it was like a lightning bolt and I saw there were other possibilities.
I'd been playing with blues bands but seeing them . . . They were just virtuosos and I saw other possibilities and I became friends with most of the guys in that group and all of them ended up being great teachers along the way.
They were turning me on to things: the drummer turned me on to Ali Akbar Khan and Nusrat Fateh Ali Khan, and hearing that at 14 just opened up my head to other things.
Colonel Bruce Hampton turned me on to John Coltrane and Sun Ra and Son House and early blues stuff. They seemed to always be there with the right inspiration at the right time, and that was a huge help.
At 16 most kids rebel against their parents: did you ever say 'to hell with this Mom, I wanna be a cost accountant'?
I think that's when I really made the turn from just playing music because it was natural and felt right and kinda easy to do, but realising that if this is what I was going to do I needed to dig and really learn.
The rebellion was maybe against people coming out to shows because of the novelty of a young kid and the connection to the Allman Brothers, the blues scene that latched onto it.
I stopped listening to any guitar players for a while and really tried to separate myself from the whole Allman Brothers connection and playing more instrumental and avant-garde music and pushing it as far as I could at that time. That was probably the rebellion which in the end helped my playing because I listened to things which I might not have otherwise.
All this stuff you listen to at some intuitive level you bring when you go on stage now.
I think it is really important the music you put in your head when you are a musician. If you are an athlete you have to be careful what you put in your body and I think it's the same with music. I notice I'll be playing and a melody will come out and I'll recognise it and later it will dawn on me it was on a record I listened to five years ago which has been slowly seeping out.
So if you listen to a lot of lightweight music done for the wrong reasons that has to have an effect on you as a musician. It's important to fill your head with ideas that carry some weight.
I saw Jeff Beck play recently and every now and again you could hear him quote something, and sometimes in a very amusing way.
A lot of the great jazz players do that quite a bit, it's almost a little game. There was great bebop group in the Fifties where the musicians were so versed they could have joking conversations musically with just song titles. If you know enough tunes and are proficient enough you can have a lot of fun up there.
You have been doing astonishingly well these past few years, you were playing simultaneously in three bands: your own, with the Allmans and with Eric Clapton.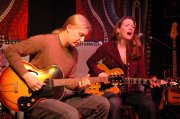 And it actually turned out to be four band because me and my wife Susan (right) put together Soul Stew Revival while we were touring in the summertime. It turned out to be a pretty chaotic year.
I'm interested to know this: when you walk on stage with Eric Clapton do you consciously think, 'Right, I'm with Eric now so some stuff I might do can't make its appearance here', or are you just feeding off him and his band and so are intuitively into that zone?
I think it's more of the latter. As a musician you are always gauging the situation and trying to be sensitive to the music going on around you. It doesn't make any sense to come into some situations with guns blazing, and different situations require you call on a different part of yourself. I think it's the same in your own band from song to song.
But with Eric I was surprised just how much room I had to move. When I got the call and decided to do it I was completely ready to have one solo a night and ready to just play support. But he pointed out he wanted more than that so I was excited.
You said you considered this, how long did you consider because you needed to think about where this might take you. Any trepidation?
Not really, because originally I got the call for the album that him and JJ Cale did and I played on a few tracks on that, then I got the invitation to tour for a year. My only thought was how to make it all fit. But it's really not an option to not do it. It never crossed my mind to never do it.
You could have said no and got a reputation as the man who turned down Eric Clapton. That would have been good press.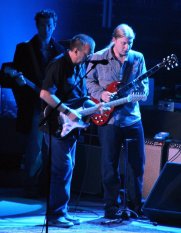 Yeah, there are a lot of ways to make a career.
Let me ask you, when you are on stage playing with Eric, what do you hear from him that feeds into you and that you have taken away?
A few things really impressed me that I didn't quite realise and one was the consistency from night to night. I just don't remember him having an off night. Some nights were more inspired and some more fiery, but the bar was set consistently high and that's what we all strive for, but not everybody gets there. And that was impressive.
But also he had that old r'n'b thing of always leaving the crowd wanting more. There was a very reserved part of his playing that I grew to enjoy. You never felt you heard everything he could do but there was always something in the backpocket. It was there if he needed it, but I learned that sometimes you don't have to show all your cards. That has carried over into my playing.
I've seen some internet comments about Already Free and some people wanted to hear more guitar plastered all over it. You'd understand that people just want to hear more of your guitar work?
Yeah, but you realise that you can never please everybody. This record I wanted to do differently and didn't want to be a complete 'guitar record'. I think there's a lot of great solo sections on it, and on every song I wanted some small showcase -- but I didn't want that to be the sole purpose of the album. It was much more about the songwriting process and what we creating in the studio -- and creating a sound.
It feels like a very strong collection of songs. And a fantastic version of Dylan's Down in the Flood too. But the one I like particularly is Down Don't Bother Me.
That's a really nice tune and that's one that [singer] Mike Mattison brought to the band. Maybe four or five years ago we played it live half a dozen times and there was something about it I loved, but also something that seemed unfinished. So it got shelved for a while and while we were in the studio we rewrote the chorus and instantly it came alive.
All the other tunes we recorded a handful of time and we had them. We'd add what we needed like extra guitar or vocals, but the tracks went down easily. But with that tune we worked on it for a day and it didn't seem right so once again we shelved it and didn't think it would make the record.
But they were filming the making of the album and we had to perform a live tune for the cameras, and it dawned on me that maybe we should set up to record just in case we got a great performance, and that ended up being the track that is on the record.
Maybe the fact that song was born on stage being performed live meant that it had to be done just that way for the album. It has that live feel.
John McLaughlin says the thing about inspiration is that it doesn't hit you all the time, but you need to be open for it -- and that's the hardest lesson to learn.
Yeah, and that's the one thing I recognised this time in the studio, just be ready and always have the mikes on because you never know when something great is going to happen, or when a song idea will happen.
The tune Back Where I Started on the album came when I as lying in bed with my wife and kids and we were trying to put the kids to sleep. They were really rambunctious that night so I took the guitar and laying on my back was thinking about a Ritchie Havens lullaby. And it hit me and I thought, 'grab your cellphone and call yourself, it could mean something'. And the next day when I went to the studio and tracked it, it just seemed right.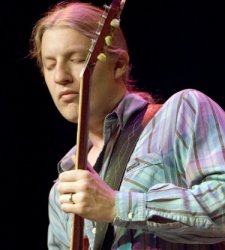 I know you are touring in the States heavily in the next few months of course, but any possibility of you coming down this way? I know you were in Australia recently.
Yeah, and we met a promoter from New Zealand and were talking about trying to get over. I'm really hoping it happens. We were only there for a brief time on the Clapton tour but me and [singer] Doyle Bramhall rented a car and just drove because we wanted to see as much as we could because it is such a beautiful country. So I'm anxious to get back, hopefully playing -- but if not just come visit with my kids.
Like this? Then check out the interviews, reviews and overviews at Blues in Elsewhere.