Graham Reid | | 1 min read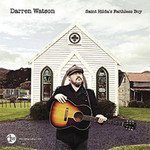 It's been far too long between albums for Wellington blues-rocker Watson -- frontman-guitarist for Chicago Smokeshop, later simply Smokeshop -- because his excellent South Pacific Soul album (under his own name) was five years ago.
In some ways Watson has mellowed, inasmuch as the vocals and guitar work here are taut as if the passions are deliberately being held in tight to give them added weight. There's nothing quite the sound of someone holding something back to convey anger/disappointment and so on.
With an excellent band (drummer Richard Te One from Smokeshop, bassist Elliotte Fuimaono, pianist/accordion player Alan Norman from the Windy City Strugglers among them) rips through some Chicago-style blues, but most interest falls on the quieter material.
Here in My Arms is a soulful, almost spiritual statement ("You're never too young to ask for salvation, you're never too old too have a little fun") of the kind you wish Willy De Ville had lived long enough to cover, and My Love Will Never Die -- the Willie Dixon/Otis Rush standard -- finds Watson somewhere in the bayou on acoustic guitar and aching through the emotions.
But the standout he keeps right to the end, the title track which is a slow, soul burner that puts Watson closer to the Sam Cooke end of the spectrum than tough Chicago blues. And the guitar part, almost weeping in sympathy, is simple and sublime. Terrific song and superb delivery.
Elsewhere however Watson gets into those darker blues emotions: don't mess with me babe on A Desperate Man delivered over a Howlin' Wolf-styled riff; Love is an Ocean he just can't cross, with wonderful Hammond by Ed Zuccollo; a stuttering-funky hand-clapper He Don't Love You . . .
Watson has been rightly acclaimed as an exceptional guitarist (ample evidence again) and a fine vocalist, but here his songwriting also comes to the fore.
A strong, and long overdue, album.