Graham Reid | | 3 min read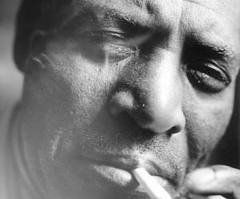 One of the most beloved blues albums of the early Seventies was a super-session recorded when Howlin' Wolf went to London to work with the Stones' rhythm section of Charlie Watts and Bill Wyman, guitarist Eric Clapton, and others including Stones' pianoman Ian Stewart. And an uncredited Ringo Starr on I Ain't Superstitious.
The subsequent album The London Howlin' Wolf Sessions was earthy but disciplined, a meeting of the old school master from Chicago's Chess studios with young English blues musicians who had grown up on his sound and knew it intimately.
By the time of these sessions Wolf's songs had been covered by the Stones (Little Red Rooster), Yardbirds (Smokestack Lightning), the Doors (Back Door Man), the Jeff Beck Group with Rod Stewart (I Ain't Superstitious), Cream (Spoonful) and many others.
As Crawdaddy Club owner/Yardbirds manager Giorgio Gomelsky recalled, "In the early Sixties there were about 40 blues fans in London that had collected some records and had been looking towards the blues for regenerating the entire music scene, which was dying on its feet at the time. We didn't have access to records. If somebody found a Howlin' Wolf album we'd sit around and listen to it for hours".
By the time Wolf arrived in London for these sessions he had resurrected his slipping career by taking to the road in '64 as part of the American Blues Festival which toured the UK and Europe, and he was at last seen live by many of the up-and-comers.
Given how many of his songs had been, and would be covered, in the Sixties it made sense for Chess to send him to London to record. Although a previous attempt at getting Wolf to an audience beyond the blues -- the quasi-psychedelic album of the previous year he dismissed as "bullshit" -- had been widely derided.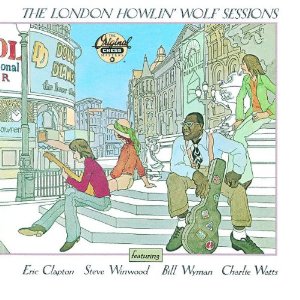 In London, they were not the easiest of sessions - the grumpy and ill Wolf (who had suffered a recent heart attack and been in a car accident which left him with kidney damage, and collapsed in a bathroom during recording) intimidated Clapton who wondered why he was there when Wolf had his own guitarist, the boy wonder Hubert Sumlin.
But Watts and Wyman settled things down when they arrived on the second day and the result was an important meeting of blues generations even if the musical results were a little uneven.
Interestingly, producer Peter Dayron selelcted some lesser-known Wolf songs (What a Woman, Poor Boy and Rockin' Daddy) alongside some of the standards.
The album commanded considerable turntable time then, was much sought after by collectors down the years, and in the Deluxe Edition it was remastered and reissued with an extra disc of alternative takes, different mixes and unreleased material.
And it still cooks.
It was the first Chess session Wolf had recorded away from home and it gave him his first chart "hit". (It peaked at 79, if we consider that a "hit".)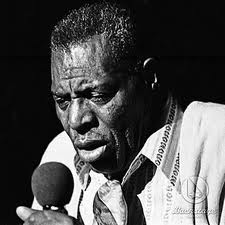 As a result of the album's success and profile, Wolf wasn't the only old bluesman Chess shipped off to London in these years.
Wolf's longtime rival Muddy Waters did much the same a short tme later, but the most commercially successful project (in the worst cover) came when Chuck Berry arrived in '72 and recorded with Kenny Jones and Ian McLagan of the Faces (plus his own players) for an album which sprung the slightly lewd My Ding-A-Ling recorded live.
Not Chuck's finest lyric but certainly gave him a viable second life in the public arena.
However of the three it is Wolf's album which is the most durable, even if producer Dayron did overdub Stevie Winwood's keyboard parts (and some horns) later to fill out the sound.
But listen to them work up Little Red Rooster through a false start, get a rockin' momentum on Willie Dixon's propulsive Do the Do and a menacing Wang Dang Doodle for proof.
And know Jack White probably has the original album on vinyl.
For more on the blues, old and new, at Elsewhere go here.