Graham Reid | | 1 min read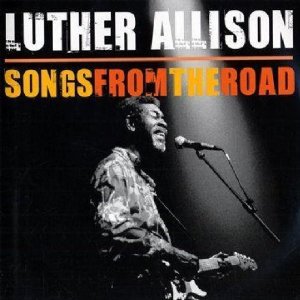 It's a peculiar thing, but the music which gave the world rock'n'roll and rock as we know it -- the blues, in case you missed the connection -- seems utterly marginalised in the media.
Even more odd is that when the best blues musicians -- and even some fairly indifferent ones, or legends passing into a belated retirement -- play a concert that people turn out in their hundreds in the absence of any publicity and hype. The likes of Buddy Guy can pull a crowd just on the strength of what they have done . . . and because people know what they will do on the night.
The great Luther Allison -- who died in '97 -- was a Chicago blues legend who was tutored by Freddie King, spend most of his time in Europe in the Seventies and Eighties where he was appreciated, returned to the States at the urging of Bruce Iglauer of Alligator Records in the Nineties, and went about a relentless touring schedule (pulling those huge crowds in many places) backed by his hard working European band.
Allison attacked his guitar as if he had a flaming whip and hands of barbed wire, and he sang like he meant every angry or sad word.
When he died aged 57 -- just when he was hitting yet another peak -- his loss was deeply felt by those who had known the hot breath of his intense performances.
This CD/DVD recorded live in Canada in July '97, fewer than six weeks before his death -- and originally relased in 2010 -- is evidence of why he was inducted into the Blues Hall of Fame the following year.
He shoots everything home hard like his guitar is a nail gun, belts out thrilling solos, the crowd is on its feet with hearts in mouths and . . . six weeks later?
We should all be so lucky to have the closing overs of our life this exciting and so public.
While the boring intro notes are rolling on the clip below, get a drink and strap yourself in.
Genius . . . and bottled electrostatic blues.
Like the sound of this? Then check out Blues in Elsewhere, there's a lotta legends and great names in there.