Graham Reid | | 1 min read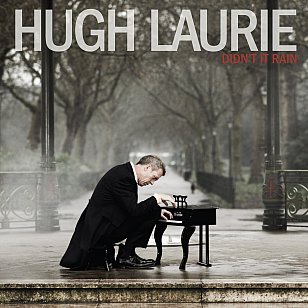 Musicians can get very territorial when actors are perceived to be moving into their turf. People like Juliette Lewis, Keanu Reeves and Charlize Theron have hardly been welcomed (sometimes with good reason) and so Hugh Laurie was met with some scepticism when he released his Let Them Talk (nice title!) a couple of years back.
Clearly Laurie -- who sings and plays piano -- loved and understood the music of New Orleans, so much so that Irma Thomas and Allen Toussaint were involved. That album was produced by knobman-du-jour Joe Henry.
Henry is back for this collection which also features excellent players like Greg Leisz, Kevin Breit, Jay Bellerose among them, and Taj Mahal sings on Vicksburg Blues.
Again Laurie goes to the classic Nawlins songbook (it opens with a pleasantly off-kilter St Louis Blues) and his piano playing is way past just serviceable even if his vocals don't quite resonate on this material as you might hope.
There are some standouts (the Taj track is fine) and the best is Gaby Moreno's languidly sensual and head-nod vocal on Weed Smoker's Dream, and Jean McClain on the the earthy Send Me to the 'Lectric Chair and the slow burning I Hate a Man Like You.
At such times Laurie steps back to let the spotlight fall elsewhere and that democratic tendency is admirable. The re-arrangements are patchy -- the slinky swing of One For My Baby takes a couple of listens to appreciate -- and over the 13 songs there are some good hits but some real misses (Wild Honey).
His critics will say he shouldn't give up the day job, but Laurie is serious and although the pure and dark spirit of New Orleans and these blues might not always be evoked, this can be highly enjoyable, especially if you aren't excpecting voodoo and spooks to be conjured up.
Probably better placed just under "music" but there's more than enough blues here for it to be under this category.
Like the sound of this? Then check out this.