Graham Reid | | <1 min read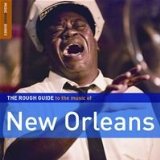 Here's the compilation many would want to compile . . . then flee a mile from. How could you win? No matter who you included there will be dozens if not scores or hundreds of artists/tracks which could also have claimed equal time.
So hats off to Mike Chadwick for being man enough to tie one on (maybe tie on quite a few) and trawl the vaults for these 15 songs which certainly give some of the feel of the city that gifted a sound or two to the world.
Rather than carp about who isn't here (everyone will have their own complaints) let's nod to who -- in no particular order -- is: Professor Longhair with a live version of Big Chief, Dr John with Mac's Boogie, the Meters (Look-ka Pa Ya), Big Chief Monk Boudreaux (Monk's Mardi Gras), Kermit Ruffins (Treme Mardi Gras), the New Orleans Night Crawlers (Hold 'Em Joe) and up to more recent names like Jon Cleary (When You Get Back) and Dumpstaphunk (the band with Ivan Neville in the line-up) with Sheez Music.
This is a big hunk of Big Easy funk, boogie, second line, African juju voodoo, southern fried soul and so forth and, if nothing else, a short cut when you are looking through your Meters, Dr John, Neville Brothers etc albums for something to play.
As with recent Rough Guide releases, this also comes with a bonus disc, this one of Dumpstaphunk's funk-rock Listen Hear.
Let the bon temps rouler.
Like the sound of this? Then check out this.