Graham Reid | | 3 min read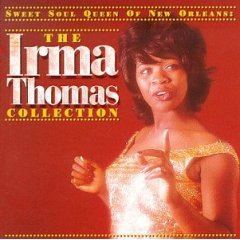 In music, titles are bestowed by The People rather than being handed down from above -- and they are so singular and specific that there can only be pretenders but no replacement figures. So there is only one King of Rock'n'Roll and that's Elvis, only one Queen of Soul and that will always be Aretha, and only James Brown will ever be considered The Godfather.
And Irma Thomas will always be the only Soul Queen of New Orleans.
Unlike those others mentioned however, Thomas isn't a household name and has very much remained a local legend -- although hailed by critics whose pens have proven useless in taking her to a wider public which seems immune to her gifts. Thomas has never had huge record sales and it wasn't until 2007 that she finally won a Grammy (in the Contemporary Blues category for her album After in the Rain), the same year she was inducted into the Louisiana Music Hall of Fame -- some said at least a decade or two too late.
Thomas' voice doesn't have the ache of Aretha -- indeed there is a pop quality about her early 60s songs -- and nor does it possess the power and gravitas of other soul-blues singers like Etta James. She is closer to Sam Cooke in many ways, but she had a tough upbringing which means she invests a lyric with a sense of real understanding.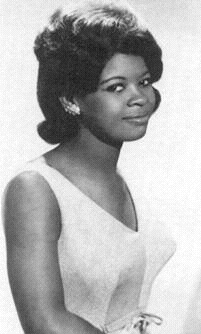 She married at 14 and by age 19 had four children. She recorded Cry On -- which opens this excellent overview collection of her early years -- when she was pregnant with her fourth. And when she opens her mouth you believe every emotion: "All my tears are in vain, I've just lost, lost, lost my man -- but in spite of all the wrong he's done, I just cry on, I just cry on. But I still love him . . ."
Thomas could find a place for herself in such simple lyrics, and locate that uplift necessary for you to believe "but I still love him" despite all that wrong that he had done her. Equally she could celebrate her freedom in I Done Got Over It or push away her lover with funky certainty on Hittin' on Nothing: "You ain't gettin' no nothing unless you got something for me".
Hittin' on Nothing was credited to Naomi Neville, a pseudonym for legendary New Orleans producer/songwriter Allen Toussaint, who worked with Thomas during her most productive period in the early 60s. It sprung her classic version of his Ruler of My Heart (later to become Pain in My Heart when picked up by Otis Redding then the Rolling Stones).
When Toussaint's label floundered Thomas shifted to a Los Angeles label and recorded her own Wish Someone Would Care which plumbed the same emotional place as Ruler of My Heart but from a more passionate and tortured soul: "Sitting home alone, thinking about my past . . . success has come to lots of them, and failure is always there. Time waits for no one and I wish, how I wish someone would care . . ."
Her second marriage was breaking up and she was just 23. But that LA album, quite some distance musically from her earlier New Orleans sound with its cannoning drums, confirmed that here was a great soul singer. She was steaming and smouldering on Need Your Love So Bad and rarely has need sounded so much like a seduction.
Yet, despite a stunning follow up single with Time is on My Side (again later lifted by the Rolling Stones, and which closed an episode of The Sopranos) her career path remained uncertain. She experimented in different soul and belting blues styles (often with great success but no sales) and covered songs by Richard Berry, Toussaint, Van McCoy, Randy Newman, Bacharach and David . . . and James Brown produced her "answer" song to his hit, It's a Man's Woman's World.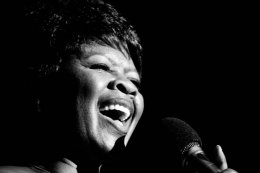 Thomas' career by the early 70s was almost non-existent as she took day jobs, looked after the kids and endured troublesome relationships. By the mid 70s things looked brighter and she was back in New Orleans, and in the early 80s opened her own club at which she frequently performed. She made gospel albums -- but her best work was in those early heartbreaking and fully understood soulful ballads, or upbeat punchy funk shot through with a New Orleans horn section.
Listen to her sing Nobody Wants To Hear Nobody's Troubles and you'll know why she doesn't complain about her life, but also how she could bring the personal into the public domain.
Irma Thomas is one of those great singers whose star isn't tarnished by her lack of sales, and if Aretha, Otis, Etta and Gladys Knight -- or even Martha and the Vandellas or the belting 60s pop of Lesley Gore and Patti Page -- mean anything to you, then she is an essential artist.
She is, of course, still the one and only Soul Queen of New Orleans, and no one can take that away from her. Ever.
These Essential Elsewhere pages deliberately point to albums which you might not have thought of, or have even heard . . .
But they might just open a door into a new kind of music, or an artist you didn't know of.
Or someone you may have thought was just plain boring.
But here is the way into a new/interesting/different music . . .
Jump in.
The deep end won't be out of your depth . . .