Graham Reid | | 2 min read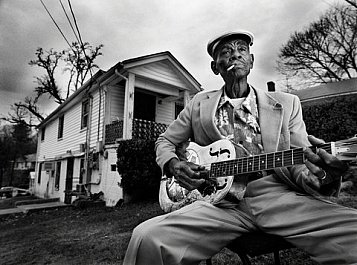 Robert Johnson: The sessions for his few songs took place in Texas in November 1936 and some time in 1937. By the time they became available on 78rpm records Johnson was dead so his life and music became surrounded in mystery and mystique.
The album King of the Delta Blues Singers was released on LP in 1961, just as the young Eric Clapton and Brian Jones (later of the Rolling Stones), Jimmy Page (later of Led Zeppelin, see their blues roots here), Peter Green (Fleetwood Mac) and other guitarists were in their late teens and starting to take an interest in the blues.
Johnson's sometimes scary sound hypnotised them. To this day Clapton and Richards still play Johnson songs in concert (and Clapton has done a tribute album to him). Johnson's story is fascinating, the music quite gripping.
.
Howlin' Wolf: Described as sounding like Louis Armstrong's evil twin, the roar and rumble of Chester Burnett aka Howlin' Wolf was tough, adult, sometimes suggestive (Backdoor Man) and raw.
A huge man, he was an intimidating presence on stage and off, and he made his name and reputation in Chicago as one of those who moved from the South and plugged in electric guitar to play the rough bars and clubs of the big city.
The Rolling Stones and their hero Howling Wolf
.
Muddy Waters: Born McKinley Morganfield in Mississippi, he too relocated to Chicago and his earthy rural blues was kicked up a notch by electrification. Great players passed through his bands and, although like Wolf he had a commanding voice, he also had a softer, more swinging style at times.
This is an excellent biography.
.
John Lee Hooker: His songs like Boogie Chillen, Crawling King Snake and Boom Boom Boom were the staple of British blues bands in the early Sixties.
Another man out of Mississippi – many of the great blues players lived in or around Clarksdale – he too moved to Chicago, then Detroit. He most often didn't work with a band but simply plugged in, sat down and played while stomping his foot.
His songs sound elementally simple but it was the rhythm, beat and mystery of the lyrics (remember British young people had no connection with black artists in the South so everything sounded strange and new) which was so attractive.
See an interview here.
.
Otis Rush: He played right-handed guitar upside down (like Hendrix would later do) and could really bellow. Again, out of Mississippi but made his name in Chicago. A brilliant technician on guitar who could bend notes (and chords) like few others at the time, and few since.
.
AND GREAT WOMEN BLUES ARTISTS (who didn't however influence the young white men in Britain very much at all)
Bessie Smith: Nobody Knows You When You Are Down and Out
Billie Holiday: Strange Fruit (about lynchings in the South)
Big Mama Thornton: Hound Dog (the song Elvis would make famous as an upbeat rock'n'roll song. The great Buddy Guy on guitar, see here for Buddy interviews)
Sister Rosetta Tharp: Didn't It Rain? (one of Bob Dylan's favourite artists for her gospel/rock'n'roll style, sometimes spoken of as the "godmother of rock'n'roll")
Music by these artists is on Spotify (and also very cheap compilations).
Elsewhere has a lot on the blues (old and new) here.