Graham Reid | | 2 min read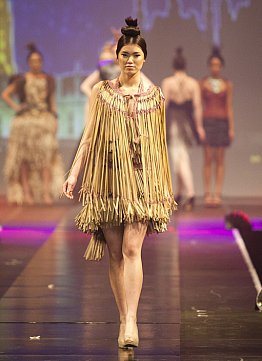 The annual Southside Arts Festival shines the spotlight on the arts, culture and communities of South Auckland where the population is predominantly Polynesian and Maori.
This year's festival which runs from tomorrow (October 17) to November 3 takes place in various venues and features everything from hip-hop and graffiti to art exhibitions, dance and design, drama and "the best of Polywood" film festival (in the Auckland City Art Gallery, Saturday Nov 2, 6.30pm).
There is also the launch of the book Afakasi Speaks by spoken word artist Grace Taylor (Fresh Gallery, Otara, Saturday Nov 2, 7pm) which will be a showcase of spoken word, poetry and dance. The book has been edited by Selina Tusitala Marsh and features artwork by emerging Pacific artists Reina Sutton, Jahra and leyna Martinez.
For the full programme go to www.southside.org.nz and check the extensive event calendar.
Meantime though, Elsewhere is pleased to able to shine its own light on the Cult Couture fashion event which looks at the future of haute couture with a Pasifika perspective. This year the event will be judged by the Herald's Canvas fashion editor Dan Ahwa, curator at the New ZEaland Fashion Museum Doris de Pont and designer Adrian Hailwood.
The event -- Genesis Energy Theatre, Satruday Nov 2, 8pm -- will feature performances by Iva Lamkum, Mara TK from Electric Wire Hustle, Rachel Fraser from Funkommunity and DJ Manuel BUndy, with dance by Ura Tabu.
Obviously we cannot show you the works which are going to be on the catwalk but we can give you a hint of the kind of thing you may expect by offering some of last year's fashions.
It is all rather striking, beautiful . . . and (mostly) wearable.