Graham Reid | | 3 min read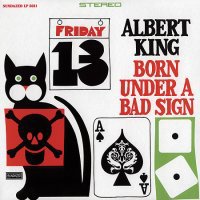 By the time Albert King started recording the music which would appear as his seminal Born Under a Bad Sign album, he'd been around and seen around for so long he'd reached a point – at age 43 – where he knew who he was and what his sound had to be.
King's story until these sessions also mirrored the progress of the blues from its acoustic rural origins in the South to the hard, electric style of urban centres like Chicago.
King was, for the generation of guitarists and blues lovers who didn't really discover him until the late Sixties, a living link with a world few could imagine.
He was one of 13 children, grew up picking cotton in Arkansas, sang gospel in church, worked day jobs as a labourer, heard bluesmen like Blind Lemon Jefferson, played drums in Jimmy Reed's band briefly, started on electric guitar and in '53 at age 30 he arrived in Chicago.
That sounds like the migration and soul of the blues right there.
Although he enjoyed some success in Chicago (recording with Ike Turner), it wasn't until he headed back to the South for work as a labourer (six years driving a bulldozer) that real success came.
Moving to Memphis, he began recording for Stax with guitarist Steve Copper, bassist Duck Dunn, keyboard players Booker T and Isaac Hayes, drummer/producer Al Jackson Jnr and the Memphis Horns – superstar players who weren't stars.
He fired off excellent but unsuccessful singles, some of which were collated alongside other studio sessions for Born Under a Bad Sign.
By all accounts they were happy sessions and, according to trumpeter Wayne Jackson, "Albert's guitar was always so out of tune with everything else, but he was such a strong man he would just bend the notes back in".
Jackson also modestly noted the house band were young guys finding their way so kept things simple, but that belies their philosophy of less-is-more which is evident here.
The album included such seminal blues songs as the title track (covered within a year by Cream, Eric Clapton saying King changed the way he thought about the blues, and later by Jimi Hendrix), Crosscut Saw, Oh Pretty Woman (immediately covered by John Mayall's Bluesbreakers which included soon-to-be-Stone Mick Taylor on guitar) and The Hunter (covered by Blue Cheer, some lyrics appropriated by Led Zeppelin in How Many More Times).
Fellow left-hand player Hendrix (who met King in '64 in Nashville at an audition and the older King showed him how to bend notes) had always acknowledged King's influence. Red House released earlier that same year clearly in King's wake, King returning the gesture by covering it later in his career.
Within the year of the Born Under a Bad Sign's release Bill Graham had King opening for Hendrix at the Fillmore in San Francisco.
Those shows were recorded to become King's next album Live Wire Blues Power, one of the great live blues albums. Later other material recorded in the same period at the Fillmore appeared as the albums Wednesday Night in San Francisco and Thursday Night in San Francisco.
In '82, Atlantic compiled 18 King songs for the double album Masterworks: seven came from the 11-song Born Under a Bad Sign. That ratio alone tells you something.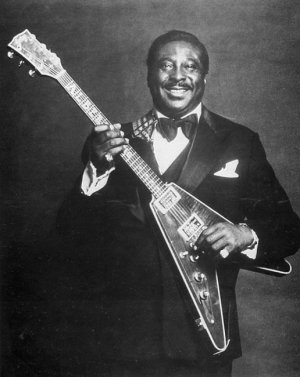 The album was – along with the Chicago, The Blues Today albums – one of the most influential blues albums of the era and its ripple effect was evident in the playing of Clapton and Mick Taylor, and later the likes of Stevie Ray Vaughan.
King's guitar style was unadorned but emotionally direct. He could make the instrument sing (listen to him bend notes in Crosscut Saw), howl and cry (as on the steamy'n'slow Personal Manager).
He could also spin out notes like a conversation (his fills and solo on Down Don't Bother Me).
The album was thoroughly modern, but also looked back to other traditions (as in Kansas City delivered with vocal restraint and nodding to jump'n'swing) and he slowed things down for the blues ballads I Almost Lost My Mind (with jazzy flute) and the jazz standard The Very Thought of You which showcased that smooth voice and put him closer to Nat King Cole than his blues peers.
In '85 the album was inducted into the Blues Foundation Hall of Fame and in '99 was awarded an honorary Grammy. King didn't live to collect the latter.
Albert King – who died in '92 aged 69, two days after a concert – was a big man who stood around two metres-plus.
And Born Under a Bad Sign is big music.
For more on the blues go here.