Graham Reid | | 4 min read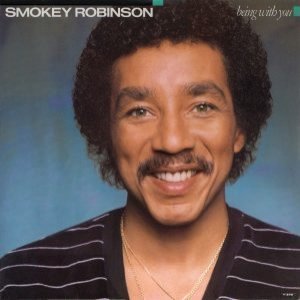 Michael Jackson sometimes said that Smokey Robinson – 18 years his senior at Motown – was the one who showed him that it was permissible for a male to sing high.
When Jackson started at Motown of course he had little choice as he was a pre-teen (just listen to I'll Be There in '70 when he was 12 – but after puberty he continued to develop the top of his range like Smokey (high but not always a falsetto) and often with a softness that was Robinson's signature.
Of course these days any male r'n'b singer – especially white artists it seems – use that style for often rather more base purposes, to showcase their feminine and sensitive side . . . which is basically just the magnet for their young female fans.
It has become just another trope in the armoury of singers, but Smokey Robinson was the man who made it an art form.
He managed to imbue his voice with a fragile sensibility when he was with the Miracles in the Sixties and early Seventies (Tracks of My Tears, Tears of a Clown and so on) and by the time of his solo career it was a refined instrument capable of sensuality as much as pathos.
But after Motown moved to LA (to be closer to Hollywood) and when bossman Berry Gordy got distracted by movies, money and Diana Ross, the solo career of Smokey Robinson – who had moved into the boardroom and away from live work – languished somewhat.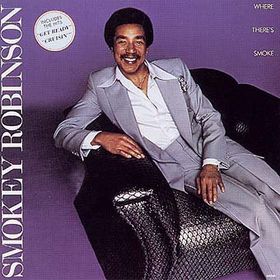 The hits stopped arriving on the mainstream charts (he'd still pitched a few top 10s on the r'n'b charts of course) and it wasn't until the breezy Cruisin' single in '79 – almost crafted for LA FM radio stations – that he made the top five again.
That came from the album Where There's Smoke . . and it paved the way for his comeback with Warm Thoughts the following year.
Warm Thoughts was a fine album and won accolades from critics who had almost forgotten the man that Bob Dylan once said – perhaps in a classic example of his misdirection – was his favourite American poet.
Warm Thoughts drew Jay Cocks in Time magazine to say, "Listening to Smokey's gift-wrapped voice, working through the easeful funk of Warm Thoughts, is a full curriculum of fine and applied musical science".
Dave Marsh observed that after the Seventies – the Me Decade – where there was a sobering detachment, cynicism and cheap gestures, Robinson chose to revert to his core belief, that of the true value of love.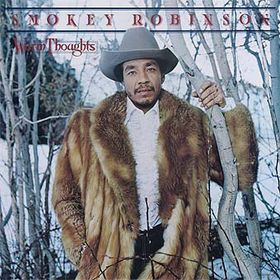 If Marvin Gaye and Prince explored sexual love as a key to the Kingdom, Robinson saw it as a manifestation of deeper and more personal emotions, a more transcendent kind of love closer to that of Al Green's spirituality.
At 40, Smokey Robinson had come of age, with a deeper and more thoughtful kind of adult songwriting.
But good though Warm Thoughts is – and it is very good indeed although some songs inevitably sound a little dated – Elsewhere has always erred to its follow-up Being With You as the better of the two.
It was also more commercially successful, probably attention driven to it by the lead-off title track single which is an exceptional slice of warm balladry with a gorgeous melody, "which Smokey's breathy falsetto caresses into delicate shape" said Geoff Brown in Melody Maker.
Graham Lock in NME, while saying the album was less consistent than Warm Thoughts, said that "Robinson's singing is glorious, his tunes still subtly insidious, his commitment to to romance absolute and credible."
But it isn't all love and romance: Food for Thought rides a tickling Caribbean beat (with steel drums) and although a somewhat cloying social message song (about Big Tobacco, bad millionaires and such) he slides you seductively into it.
And aural seduction is everywhere here, the lovely If You Want to Make Love subtly alludes to the melody of his You Really Got a Hold on Me from about a decade and half previous. In another darker voice the sexual sentiment might have come from Barry White but here it is red wine and silk sheets and slow sensuality which only Smokey can deliver so persuasively.
And a song like the slow ballad Who's Sad (one of four out of the eight songs which aren't originals) is a gorgeously archetypal Smokey song of hurt: "Sad, who's sad? Not me. Just a couple more years and I'll be fine".
Smokey always did heartbreak and the inner emptiness better than most, but now sopemthing else came into play as he matured: "Time has added a metaphysical depth to his art," wrote Stephen Holden when reviewing Being With You for Rolling Stone. .
Critics noted that after Where's There's Smoke and Warm Thoughts it was odd that he would abandon his former producers and team to bring aboard new players and producer/arranger George Tobin who was largely an unknown.
But the backing musicians and production pulled Robinson into some fresher musical contexts also (Can't Fight Love is disco without the full glitterball, a genre he had touched on previously).
Athough it was always going to be the glistening ballads like his original You Are Forever ("which extends a promise of eternal love so beautifully and directly that you practically forget how shopworn the sentiment is," said Holden) which made this one soar on gossamer wings.
The closer I Hear the Children Singing (written by one Forest Hairston) however is real bottom-drawer sentimentality and as gooey as the title suggests. It as nostalgic for those days of youthful innocence as anything Michael Jackson would sometimes descend into. Awful stuff.
So Being With You is not a masterpiece but certainly as close to a flawed one as you might get.
That title track which opens this is a magnet and if the album's occasional lyrical flaws are manifest that magical voice papers over the cracks.
These Essential Elsewhere pages deliberately point to albums which you might not have thought of, or have even heard . . .
But they might just open a door into a new kind of music, or an artist you didn't know of. Or someone you may have thought was just plain boring.
But here is the way into a new/interesting/different music . . .
Jump in.
The deep end won't be out of your depth . . .