Graham Reid | | 2 min read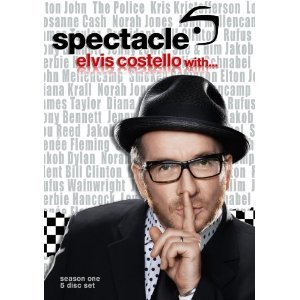 Because television talk shows depend largely on the quality of the guests, Rove (the programme, not the man) will always be more interesting than any local production. When it comes to visiting artists and celebrities, Australia gets more passing trade.

Imagine then the greater talent available in New York if you set up a music/talk show with Elvis Costello – whose musical reach is from post-punk to country and latterly scoring for ballet -- as the interviewer and co-performer. And if you have Sir Elton John as executive producer of these hour-long shows recorded in 30 Rock's studio or the Apollo Theatre before a live audience.

With a guest list which includes Bill Clinton (clearly aging, but talking knowledgeably about jazz and growing up with Presley's music), a wry Lou Reed (showing the secret chord in Sweet Jane), Tony Bennett, the Police (Sting playing Roxanne on acoustic guitar as he originally conceived, with a Latin shuffle), the ageless and probably Botoxed Smokey Robinson, and a poised Rufus Wainwright among others you have music-talk television which can hardly fail.

And the backing band in various segments includes Presley's guitarist James Burton and New Orleans piano legend Allen Toussaint, there are guest spots by bassist Charlie Haden and guitarist Pat Metheny (on a beautiful ballad Is This America in the Clinton interview), and illustrative video clips are interpolated.

For those who like singer-songwriters Costello pulls up a chair and guitar with Kris Kristofferson, Rosannne Cash, Norah Jones, John Mellencamp, James Taylor and others, and the younger generation is represented by Jakob Dylan, She and Him (M Ward and Zooey Deschanel) and Jenny Lewis.

Soprano Renee Fleming tells candid and funny stories about her life as a diva and enchants in a piece with avant-guitarist Bill Frisell, Herbie Hancock is the subject of one programme, and in another Elton John and Costello's wife Diana Krall chat to each other at the keyboards.

This is an exceptional gathering of talent, but if there is a problem it is with Costello. He sweats unattractively under the lights, relies on a tightly clutched clip-board, sips water incessantly to the distraction of some guests, and opens every show with his interpretation of a relevant song which can be hit and miss given his inclination to turn some material into shouty, over-emoting folk-rock.

But that aside, it is the quality and candor of the guests and if Costello's questions become long statements rather than Parkinson's pointed probing, it supports the idea that this is a conversation rather than an inquisition.

The guests are, without exception, fascinating.

A highpoint among many on these four interview discs (and one of bonus performances) is the artist/film maker Julian Schnabel joining Lou Reed for a revealing chat, and Schnabel ending the programme with a spontaneous and compelling recitation of Reed's Rock Minuet.