Graham Reid | | 1 min read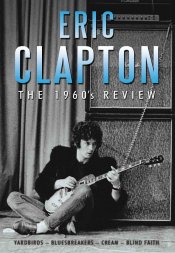 Eric Clapton has made a somewhat sudden appearance in the past month with a survey of his early career here, the album with John Mayall and also his Journeyman popping up as a Bargain Buy.
Now by coincidence this interesting -- and rather detailed -- overview of his rapid career in the Sixties (Yardbirds, Bluesbreakers, Cream, Blind Faith) arrives.
Another in the Chrome Dreams series which has produced similar films of the Small Faces, the Stones, Velvet Underground and others), this is again done without the central character's authorisation -- but because of the quality of the talking heads (and the few clips of Clapton interviews as well as live footage) this succeeds despite that.
Of most inteest here are former Yardbird Chris Dreja, Cream producer Bill Halverson, the always gentlemanly journalists Chris Welch and Nigel Williamson, and Paul Jones who has barely aged but possesses a beautifully actorly voice.
Jones --- of Manfred Mann at the time of the Yardbirds -- also tells an interesting story in the extra features of the short-lived (three songs) Powerhouse which was himself, Clapton, Stevie Winwood and others in that lull before Cream. Jones had been approached by producer Joe Boyd for some British blues tracks for a compilation and so he asked Jack Bruce (bassist in the Manfreds) and said ideally he'd like to also get drummer Ginger Baker and Eric.
"Why, what have you heard?" said Bruce. Cream -- Clapton, Baker and Bruce -- were already in secret rehearsals.
Halverson also tells of low theft by a high-powered Beatle during the final Cream sessions.
As an overview of Clapton's formative career in the Sixties, this is useful for its anecdotes but as always -- and you do wish Chrome Dreams would lose him, but he must be a shareholder -- you have to suffer through the pained expression of Alan Clayson who must be an intolerable bore at a dinner table.
He's a man who seems to find rock music, to which he has given his life, something to speak about in a tone betweeen condescention and constipation.