Graham Reid | | 2 min read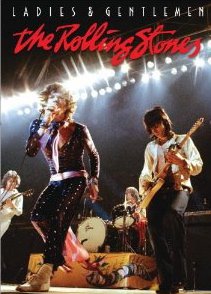 Aside from the obvious reason (40th anniversaries), there is another explanation for some much Stones stuff from the late Sixties/early Seventies: that was when they became the bad boy phenomenon which most people associate with them. There is also a lot of footage and music, and by the late Seventies and early Eighties things were less interesting.
They progressed from a blues band into a pop-rock outfit and then around the time of Satisfaction invented what became known as "rock". After the debacle of Their Satantic Majesties Request psychedelic excursion however some hard thinking was done and with Beggar's Banquet they discovered a sound which became their signature style, a kind of white rock'n'roll blues with a smattering of country, a menacing edge and classic Keith Richards riffs behind the pouting, sneering Mick Jagger.
Then there was Exile on Main Street made under difficult circumstances . . . then the '72 tour of the album across the USA, which this long lost doco covers.
As Jagger says in the extra footage here, he thinks they bought it at some time and sort of forgot about it.
That enhanced the legend of the film -- which must have been something in cinemas in the Seventies, and even now. But of course there are the constraints of filming during this period and a few other drawbacks.
In the early Sixties the cameras were always on Jagger and Brian Jones, by the late Sixties Jones had been sidelined and Richards was closer to the centre of the frame. But Jagger was always in the spotlight.
This digitally remastered film -- shot over four nights and edited non-sequentially so Jagger's costumes keep changing he observes to great delight -- means that you could do a mathematical breakdown: Jagger gets about 75% of the attention, Richards maybe 20% and the rest . . . .
Well Wyman is like a statue, Watts barely lit and newboy Stone Mick Taylor looks like a man who daren't move from the spot because he might be fined. The camera sits on his fingers during his often sublime soloing but his face remains impassive on the rare occasions you see it.
But what is impressive is how they were crammed on small stages -- none of this football field stuff of today -- and Jagger makes the most of that tiny space in his camp and provocative dancing. He also reduces lyrics to exaggerated vowel sounds where ends of wors are snipped off ("yoo kent orwaaa git wha you waa").
So as interesting as this is, it is limited in many ways in what it shows (very little audience footage) but there are a couple of reasons which this will be a must for Stones fans, it is the bonus footage.
Here we see them in rather joyless but interesting rehearsal (again in a small space, very intimate) and then two interviews with Jagger, once back then and once this year. Back in '72 (where he looks like he's wearing Freddie Mercury's teeth) he is subdued but dry, says that he and Keith ar very different ("He's more rock and roll") and that he could see a day when he would want to do something outside of the Stones.
In 2010 he is very funny, sees the humour in the clothes he wore and the eye makeup, and is a man thoroughly at ease with himself and his legend. He is much more forthcoming than he was back in those days.
There is also a limited edition version with an extra disc of other interviews: Dick Cavett goes backstage at a matinee show at Madison Square Garden and chats with a weary Jagger who talks about songs being banned for mention of a product (like Cadillac) or drugs, and then goes off to do the show. Cavett then speaks with a chatty Wyman (he quips about Tom Jones being excited by middle aged ladies), then it is a very casual and witty Jagger ("we're not very 'ard working") briefly before he goes on again.
He says he can "easily" see himself doing this at 60.
But, there is more . . .
Black and white interviews with Jagger, Richards and a very forthcoming Watts ("this whole thing is juvenile . . . I'd love to be a painter, something I could do without moving from where I liked") and a well spoken Mick Taylor in Australia in '72. Wonderful.
This is on those DVDs where the "bonus" really is a bonus.