Graham Reid | | 1 min read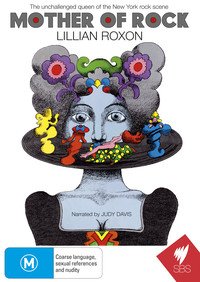 Australian writer Lillian Roxon (1932-73) was in the vanguard of feminism, a scene-maker in New York as she held court in Max's Kansas City with her pals and peers (Iggy, Alice Cooper, Andy Warhol), was a correspondent and columnist filing on everything from the mundane to the remarkable (Warhol's Factory, Janis Joplin, Hendrix) and was one the first passionate rock writers.
Through her nights at Max's and driven by a powerful belief in the power of the music of her era, she wrote her famous Rock Encyclopedia in '69 (she has an asthmatic seizure while writing about the Supremes) and was prescient in her columns and letters. She wrote that by 2001 people would be able to have music at home and manipulate the tracks.
She was a lightning rod for talent, wrote about sex, and introduced to New Yokrers Australians as diverse as Germaine Greer (whose dedication in The Female Eunuch is equally brutal and generous) and Helen Reddy (who attributes Roxon as inspiring her to write I Am Woman). Linda Eastman (later McCartney) was her photographer and best friend, and . . .
And she did so much more.
A decade older than the people she wrote about, she got the nickname "the mother of rock" and her style anticipated the idea of New Journalism, and she famously fell out with Eastman/McCartney in a bitter column about Wings then deriding his "bland easy-listening muzak".
This doco -- sometimes showing how cruel, base, bitter and damaging some of these "friends" could be to each other -- includes honest interviews with Iggy (who laughs about a key gig where he sees a room full of spectacles because "they were all writers"), Greer, Danny Fields, Derryn Hinch, Lisa Robinson, Lenny Kaye, Lee Childers Black from Warhol's Factory, David Bowie, Alice Cooper . . .
It also has interesting footage and stills from the period, although annoyingly much of it isn't related to the story being told at that point.
The matronly, wild and insightful Roxon is central here and the story goes back to her birth in Italy to Jewish refugees who fled Europe to end up in backwater Brisbane where Lillian exhibited a powerful self-determination and intellect which she took to Sydney and then New York.
But the stories by Iggy and Alice are the ones which many may remember the most for their sheer humour as they recount the exceses (Iggy cutting himself).
Sadly Roxon -- who was an almost obsessive writer and famously hard worker -- didn't live to see punk which she doubtless would have been an important and brutally frank commentator on.
In what would be her final years the tone of her letters home changed. She fell off her platform shoes and while confined, overweight and alone she, for the first time, contemplated her emotional loneliness.
She died of an asthma attack at age 41.
Interested in more along these lines? Then try this.