Graham Reid | | 2 min read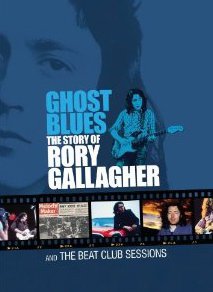 Here's one from the pub quiz: Who topped the Melody Maker poll in '72 in the best guitarist category?
Of course a more interesting question might be, "How come Ireland's Rory Gallagher beat out Eric Clapton, Jimmy Page, Steve Howe, Leslie West and all those axe-slingers of the day?"
Gallagher -- who died in '95 of liver complications due to lifestyle -- was not just an extraordinary blues-rock guitarist but an exceptionally humble and friendly man for whom the trappings of rock stardom held little interest.
He refused to release singles as he didn't want to get trapped into a one-off sound, seemed to spend most of his on and off-stage time in jeans and a checked shirt, and wouldn't play any record company or promotional games.
In this excellent doco he says playing music was difficult enough without getting into a chess game with his public or the press.
Of course he could have been bigger if he'd compromised a little -- but that just wasn't in his personality. He wanted to play music and tour, and the rest of it seemed incidental.
Yet Gallagher was big enough: His band Taste of the late Sixties/early Seventies opened for Blind Faith on their sole US tour, and in '74 while opening for the Stones in Europe he was tipped as being the replacement for Mick Taylor who was quitting.
But as a blunt and funny Bob Geldof notes here, "Rory was not a sideman, he was a frontman. Ronnie Wood was a sideman". he then adds a very funny coda you should see for yourself.
And Gallagher was certainly a man who wrote, played, lead a band and produced is own albums. It was his life, his music and his career . . . and no one was going to shape it for him.
Gallagher was raised in Cork, played in club-circuit showbands (which, according to Geldof destroyed Irish musicians for two generations, "a musical disgrace") and then hauled himself out of the entertainment circuit and into small clubs in Ireland and then London playing his distinctive brand of tough blues-based electric rock.
Taste were a power trio aongside Cream and the Jimi Hendrix Experience, but Gallagher also played saxophone so brought a jazz-rock element into play as well.
After Taste broke up he headed out under his own name, stripped the music back to its essence, didn't capitalise on opportunities (as many commentators from The Edge to Irish rock writers say as a chorus) and just prefered to be out there on the road.
In a sense the road killed him.
He became increasingly nervous about flying, was becoming increasingly medicated (and he liked a drink or two), put on weight and got ill, had liver problems and needed a transplant . . .
Rory Gallagher was not just one of the great rock guitarists of his era (he also played mandolin, dulcimer and electric sitar), but he laid out a footprint for many Irish musicians at a time when there was only Taste and (Van Morrison's band) Them. Without him it's hard to imagine either Thin Lizzy or U2 could have become as big as they did.
He was a generous soul who crossed the sectarian divide of Ireland in the Seventies and his loyal fans knew he would not only deliver on stage but shake their hands afterwards.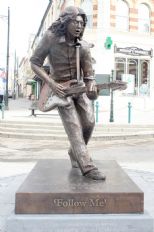 From Slash, Bill Wyman and his manager/brother Donal to Johnny Marr (who tells of seeing Gallagher changing a string while still playing, "he deserves a statue for that alone"), people line up here to pay tribute to a man who made, in the words of fan Cameron Crowe, "music that matters".
This fine doco - lots of live footage and interviews with Gallagher -- which also paint a picture of a solitary man whose sole real relationship was with his guitar also comes with an extra disc of Gallagher playing on The Beat Cub in '71 and '72.
It's persuasive evidence of his gifts.
Rory Gallagher was only 47 when he died. In June 2010 on the 15th anniversary of his death he got his statue.
Like the sound of this? Then check out this.