Graham Reid | | 1 min read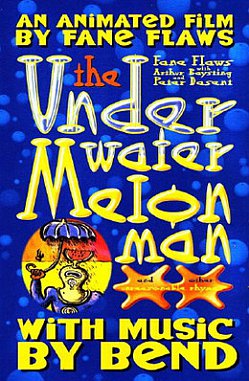 This film (with tie-in CD and book) by artist/musician Fane Flaws has long been something of a cult favourite with kids and a guilty pleasure for adults.
Flaws, whose most visible work was the opening animation for Radio with Pictures in the late Eighties, created The Underwater Melon Man and Other Unreasonable Rhymes in '97 and called on some of New Zealand and Australia's finest musicians to perform on the soundtrack (backed by himself on guitars, longtime friend Peter Dasent on piano and others).
Flaws is no slouch as a songwriter either. He co-wrote Tears with Arthur Baysting which became a huge hit for the Crocodiles (who were fronted by Jenny Morris). So his songs here (written with Dasent) almost sound handmade for the artists who sing them.
Chris Knox gets the title track and turns it into something like psychedelic Lennon's I am the Walrus-cum-Rain, Neil Finn on Neville the Enchanted Rug shapes it into a fine Crowded House-like piece, the Topp Twins and John Clarke sound exactly like themselves on The Eccentric Instrumentalist and The Hide And Seeky Bird respectively . . .
Also here are Tim Finn, Bic and Boh Runga, Wellington bluesman Darren Watson, Australian Renee Geyer, Jenny Morris (on the cabaret-styled Girl with the Porcupine Coat), Che Fu and Rhythm Slave, bass player Jonathan Zwartz, Australian jazz singer George Washingmachine, Tony Backhouse, Don McGlashan (who adopts the Beatles' Rain as his template for The Girl with the X-Ray Eyes), Dave Dobbyn . . .
Flaws' delightful, dazzlingly colourful animation is a treat and with short songs which don't patronise kids with moronically repetitive melodies and inane lyrics, this is one of those repeat-play items which is timeless in its humour and which doesn't outstay its welcome at 40 minutes.
And what a great cast of characters: The Forgotten Fork, The Girl with the Empty Head, The Girl from Godknowswhere, The Man with the Cast Iron Belly, Imelda Blade, The Dog with the Saxophone, The Man Who Never Was . . .
Lotta fun.
This reissue (a special limited edition deal on the triple pack of book, CD and DVD of around $60) arrives a bit too late to save parents trapped with kids during the long wet summer, but this is such a classic with broad cross-generational appeal that there should be one in every home.
Like the look of idea? Then try this?