Graham Reid | | 2 min read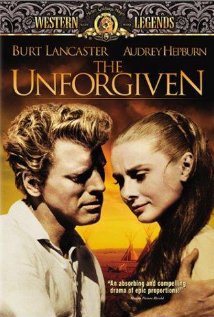 Not to be confused with Clint Eastwood's Unforgiven -- or the excellent if short-lived outlaw-rock band of the same name -- The Unforgiven from 1960 is one of John Huston's ambitious Westerns, cast perhaps a little in the shadow of John Ford's classic The Searchers of four years previous.
In both films the action takes place in that netherworld between the civilised (European, back east) and the savage (that of the Indians, somewhere out there in the endless landscape).
And both films have at their core a bloody racial tension in which one of the protagonists who hates Indians -- John Wayne as Ethan in The Searchers, Audie Murphy playing against good-guy type as Cash in The Unforgiven -- might just kill a woman because she has been tainted with savagery.
In both there are those long establishing scenes at the start to take us into this small world of settlers who intermarry and are on constant alert, and where the landscape itself is a powerful character.
Viewed at this distance of course, some of both films seems clumsy, not the least in The Unforgiven the oafish young men and immature women (played by actors much older than their characters) who clown around, are dumb and/or coy, and seem ill-suited to the tough world in which they live.
The Unforgiven also stars Audrey Hepburn who, God love her for her beauty and so on, hardly seems the frontier kind and really does come off as a one-trick actress when you view a number of her films in quick succession.
She is Rachel, the adopted sister of the tough Ben Zachary (Burt Lancaster) and Cash (Murphy), whose girlish charm is central to the first part of the movie. But when that great Western character, the loner, rides into their lives proclaiming Biblical doom things take a much darker turn.
When he declaims that Rachel is a Kiowa Indian -- hated by Cash because the Kiowa killed his father -- their world is turned upside down. As the mother who held the secret for so long, saying Rachel was a white foundling brought home by her husband, silent screen star Lillian Gish does a fine turn at over-acting and wide-eyed terror.
Yes, The Unforgiven has its weaknesses when viewed from the lens of the 21st century.
But as the second half goes deeper and darker, the Kiowa arrive to claim their own, Cash goes half crazy with rage which might just turn on his "sister" and jut-jawed Ben -- for whom his "sister" Rachel has a possibly inappropriate sexual longing -- tries to hold it all together, this becomes a much more problematic and bloody ride altogether.
At that point it most resembles aspects of The Searchers -- will Cash or won't he? -- and by the closing scene following murderous mayhem out of which no one emerges unscathed, The Unforgiven redeems all those yuck-yuck and goofy scenes at the start as the young 'uns clown around.
This is a family torn apart, and taking others with it as it goes down. Powerful stuff -- set to awful and often inappropriate music by a heavy-handed Dimitri Tiomkin.
Like Westerns? Then go start here and follow the intralinks.