Graham Reid | | 1 min read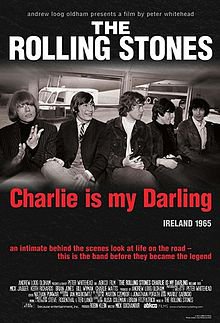 As the Rolling Stones commemorate, celebrate and commercialise their 50th year, they are certainly being well served by books, the Grrr! compilation, and on film with Crossfire Hurricane and now the reissue of this, a long out-of-print doco about their lightning fast trip to Ireland in late '65, just weeks after the release of Satisfaction and it topping the charts globally.
It is a fascinating document on many levels: that it captures the band at the peak of the mayhem (the stage invasion in Dublin is violent and unbelievable); they already seem weary and wary as the gloss has gone off (Mick Jagger and Brian Jones both say they didn't think they would last even this long); and the music is often thrilling (It's Alright almost seemed written to invoke hysteria).
Every now and again there are thoughtful to-camera comments by the softly spoken Jones, the aloof but thoughtful Jagger and Charlie Watts who closes the film saying he much preferred being at home.
Ireland looks like the 19th century with bad skin and poor dental hygiene (horse and cart in the street, a woman of 40 in a head scarf as if she's come from the workhouse), manager Andrew Loog Oldham clearly a quiet force despite his youth (amusingly in the intro credits he is billed "Andrew Loog Oldham as 'The Manager' " as if this is a fiction) and the raw footage captures the excitement of the performances and the tedium of backstage.
Jagger proves as stupid and sloppy as any drunk, Jones acutely self-conscious beneath his bonnet of blonde hair, Richards does a very passable Elvis impersonation and they fool around making wry jokes about the Beatles (a sort of invisible presence) and mockingly sing Fab Four songs.
They are also shown working out their own songs (Sitting on a Fence, Tell Me) and Richards is rarely far from a guitar or piano.
Some of this footage appears in Crossfire Hurricane but the full arc here -- the tedium as important as the excitement -- is a snapshot of a few days in the middle of what was about to become an even more controversial story, and subsequent year.
Sadly too Brian Jones' opening comments ring like a portent.
"The future as a Rolling Stone," he says in beautiful soft enunciation, "is very uncertain. My ultimate aim in life was never to be a pop star. I enjoy it with reservations, but I'm not satisfied artistically or personally."
He was dead less than four years later.