Graham Reid | | <1 min read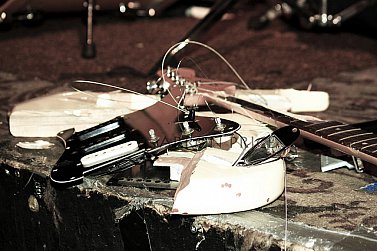 The phone call from Simon Ogston is gratefully received because he was the guy who made that fascinating doco about New Zealand's Skeptics, Sheen of Gold.
And when he says he is putting on a short film festival of similarly noisy features and footage in Auckland, we cannot help but take notice.
Then he mentions the Chants R&B film Rumble and Bang by Jeff Smith, and footage by Jed Town of Fetus Productions whose dark visions have unsettled anyone who has seen them . . .
And although Sheen of Gold won't be screening, Ogtson says he will be showing other Skeptics live footage.
For more information you can go to the Audio Foundation here.
Meantime Elsewhere is happy to run the poster and let you do the rest.
Three nights of noisy visions.
.