Graham Reid | | 2 min read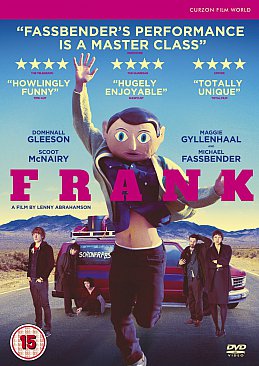 Not many people know that when Captain Beefheart and His Magic Band were recording their classic and sometimes frightening album Trout Mask Replica in '69, the good captain (Don Van Vliet) kept the musicians all-but captive in a big house in Topanga Canyon to ensure the job got done to his satisfaction.
Artists often talk themselves into a different environment in the hope of finding their elusive muse, but Beefheart's thing was different.
They rehearsed all day, there were lengthy periods without sleep or food, band members later described their nine months in isolation in terms of brainwashing and psychological torture, and Beefheart "a way more powerful person than Charles Manson" (according to drummer John French aka Drumbo).
There's some interesting comment about all of that in this film but for those not ready to take the deep dive into that particular madness, this film by Abrahamson (Madman DVD) is an amusing and oddball take on determination, dedication, eccentricity and music made in physical and emotional isolation.
The Frank of the title is an American musician (Michael Fassbender) who permanently wears an oversized fake head and creates music that is very far into leftfield. The band he carries consider him a genius but constantly argue or remain mute, or don't speak English.
Into this world arrives an aspiring young songwriter Jon who – desperate to escape his small seaside town in Britain – joins up as a keyboard player and is immersed in this bizarre world.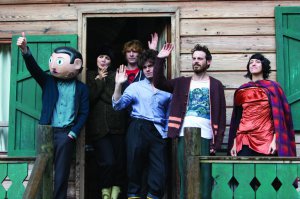 There is an 18 month isolation in a cold lakeside cabin in Wales where, when the money runs out, he (Domhnall Gleeson) hands over his nest egg to keep them afloat.
They reject his songs.
But – despite a suicide, rage, power struggles, some truly horrible music in rehearsals and Frank's inability to settle on a style – they find themselves invited to Austin for a South by Southwest.
How this plays out is variously tragic, farcical, funny and melodramatic . . . and, as Jon our narrator, Gleeson becomes a stronger figure and more in Frank's ear.
There is however, a lot of compassion at the heart of this film. Everyone loves Frank despite never having seen his face. He is a blank page on which others write their story.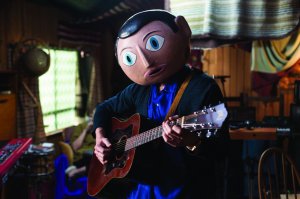 Frank's passionless "face" stares out of the screen as a strange cipher, a one-man Replacement who makes music that could just be unlistenable.
Needless to say things unravel even further in the critical crucible that is Austin, a city where eccentrics like local boys Roky Erickson and Daniel Johnston have been embraced.
From strangeness to sentimentality, Frank the film is a compelling trip.
It is also, however, a comment on how mentally damaged people can come into the music world and their eccentricty is hailed as if it is a gift by legions of people looking for some outside genius . . . and never see the real and often tragic person behind the mask.